← Back to Trade Talk Blog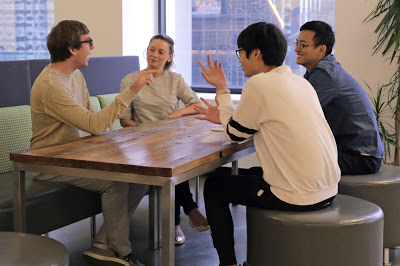 As summer at Trading Technologies is rapidly coming to a close, I wanted to take the time to reflect on my experience as one of TT's 2015 summer interns.
First and foremost, I would like to say that I have no idea where the summer went. To say it went by quickly is an understatement, which I think, in itself, speaks volumes about how much fun I had at TT. Although, like most every college student (especially those who attend IU), I am incredibly excited to go back to school, I feel this excitement at a smaller degree than in years past—solely because that means leaving TT and the people that make it so enjoyable.
As I wrote in my initial blog post, TT was not at all what I expected it to be. I thought that I would be walking into a much more corporate environment and was taken aback by the cool, laid-back exterior—snacks, bar, game room, decor and all.
But now that I'm looking back, what I think is even more remarkable than the physical environment is twofold: (1) the trading environment as a whole and (2) what I was actually doing.

Industry and impact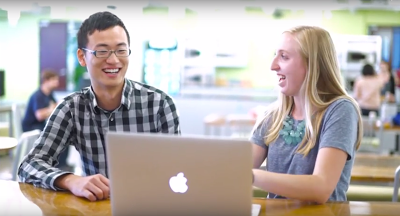 First, I will forever be in awe of the nature of the trading industry and how quickly and constantly it evolves. I was both shocked and impressed by how TT works with these changes to provide customers with the best software possible. Having the opportunity to actually use the trading software that TT creates by participating in the intern trading competition instilled this message even more.
Second, I worked on real projects that made a real impact on the company. I, along with the rest of the other interns, didn't just do brainless busywork like fill in spreadsheets and fetch coffee. Instead, we were given responsibilities that employees appreciated. Not only was our work valued, but our opinions were too. We were thought of as members of the team and were treated as such.
For example, over the summer I had the opportunity to completely manage and execute an event we hosted at our offices for John Lothian News: The MarketsWiki World of Opportunity Summer Intern Education Series. Mayor Rahm Emanuel even came to speak at this event. I also was given full control over creating and developing an Instagram strategy for TT that I presented to the team, and I published two blog posts—one of which you are currently reading.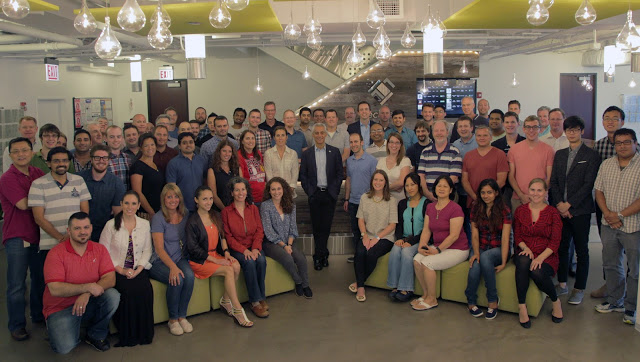 Chicago Mayor Rahm Emanuel posing with TT employees at John Lothian
News' MarketsWiki World of Opportunity Summer Intern Education Series.
My fellow interns were just as productive:
Our design intern Leah Fessler and I worked together to create an internal video about the internship program. Leah herself took over 1,705 photos that are being used in our internal and external marketing materials, and she created a library of digital signage and banner ads for TT.
Web Client Engineering intern Likitha Lokesh spent the summer working on delivering many enhancements to the front-end trading application for the new TT platform, contributing work to more than 40 issues.
Quality Engineering intern Daniel Park created a new front-end framework for later tests with an upgraded layer of design to make it less susceptible to future changes in the platform.
IP intern Alexandra Martinez put her writing and legal skills to use, drafting a number of key documents including a non-provisional patent application claim and a letter to Senator Durbin to propose an amendment to the America Invents Act to stop abusive petitions of covered business methods proceedings.
IT intern John Lefkovitz helped reduce the workload on our full-time IT staff by patching network cables, fixing IP issues, solving printer problems and imaging computers.
TT Algo SE Engineering intern Haolin Zheng implemented a performance build for the algo server and refined the interface, which will make it even easier for developers to add more performance points in the future.
Global Support Engineering intern Charlie Case's work allows customers to get live trading data into Excel.
Performance Engineering intern Bunty Patel's efforts are saving developers time when testing changes and allowing them to better debug any problems they may have by giving them access to order information that was unaccessible previously.
It's hard to believe all of this was accomplished in just one summer! Looking back, I'm amazed and proud of all we accomplished and what we contributed to the team.
Collaboration and camaraderie
Which brings me to my next point: collaboration and camaraderie. We have so many different teams and departments at TT—marketing, global support, engineering, IT, sales and intellectual property to name a few. Because of this, it can be easy for a company to slip into organizational silos where one has difficulty communicating with departments outside of their own.
That is definitely not the case at TT. Each team typically not only has weekly—and, in some cases, even daily—stand-up or check-in meetings to keep everyone in the loop, but also effectively communicates through all departments to ensure that information is properly conveyed. Charlie Case said, "It's helpful to see how the development process works through sprint planning meetings and daily standup meetings my team had."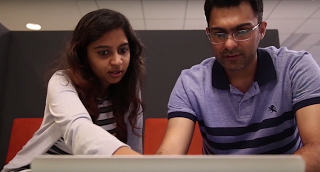 This stress on collaboration is further evident in the internship program through the form of brown bag lunches. Every Wednesday afternoon a different TT employee—including our CEO, Rick Lane—sat down with the interns for lunch and talked to us about their background and work. These casual lunches gave us a better view of all departments and how they're connected, but additionally gave us life lessons and insights from people we could relate to.
As John Lefkovitz and Leah Fessler can attest, employees from all departments and backgrounds took the time out of their day to talk to interns because they genuinely cared:
Said John, "While trying to learn a lot of new information very quickly can be overwhelming, my team members were always there to help me with a problem or answer any questions I may have had. There were a couple times this summer when Lauren, a member of the IT Support team, would stay late with me on a Friday night to help me troubleshoot a problem."
And Leah continued,"Being surrounded by talented people who are willing to teach and share their knowledge definitely made this experience worthwhile."
Sentimental summer
By the time you read this, I'll already be back on campus in Bloomington, Indiana beginning my senior year at Indiana University. I'm sure I'll be missing Chicago (the best city in the world), the Tech Tap and unlimited snacks, the brown bag lunches and the fast-paced nature of the trading industry. But most importantly I'll be missing my team and fellow interns.
I am so grateful to have been given the opportunity to learn so much in such a short amount of time and to work with some of the most intelligent and creative people I've ever met. It is truly an experience that I wouldn't trade for anything.
If you or someone you know is interested in interning at TT during the summer of 2016, I'd encourage you to learn about the requirements for the 2016 summer internship program and submit a cover letter and resume to internships@tradingtechnologies.com.