← Back to Trade Talk Blog
The TT® platform has been available for more than a year now, and in that time, we have been very conscious of seeking input from users. Through a series of webinars and training presentations, I have been fortunate to get first-hand feedback.
Three of the topics that traders keep coming back to are accessibility, speed and flexibility. Let's take a deeper look at each characteristic.

Accessibility
TT needs no installation and operates on most any internet-enabled device, which carries huge weight. Grab a laptop or a phone, log on via WiFi or your mobile carrier, and you're good to go. Of course you can also trade with TT via a desktop computer, but that is no longer your only option.
Many of our early adopters have aggressively embraced the mobility offered by the TT platform for their regular business activity. "Trade anywhere-with unmatched power and speed" has been our calling card, and traders have welcomed this differentiating feature. I've had the pleasure to work with a diverse group of traders who migrated to TT specifically because of its mobility. Their lines of business call for timely order entry and, in some cases, hedging activities that simply could not be done efficiently without the "trade anywhere" aspect of TT.
I've talked about the "keep the market in your pocket" aspect of TT—specifically TT Mobile—here on Trade Talk before. The real-world use cases we've seen thus far show that TT is delivering on that promise.
For example, consider a cattleman who attends an auction. He can hedge his exposure on the spot from his phone using TT Mobile. His physical access to the underlying live spot price at the auction combined with mobile real-time access to CME's futures prices brings new meaning to the phrase "real-time basis trading."
Speed
Market makers have been among the first wave of TT users. The draw of TT for them is not mobility but another of TT's killer features: speed.
As our CEO Rick Lane discussed earlier this year in A Look Back on TT's First Year, TT is now the fastest commercially available platform on the market. Autospreader® in particular has reached speeds two to three times faster than ever seen before. Speed-sensitive traders are taking advantage of TT, which is deployed in colocated data centers, to gain an edge.
But speed is reflected in more than just order execution:
TT's search functionality makes finding contracts a breeze.
Autoroll, which automatically rolls Market Grid contracts forward upon expiration, makes workspace maintenance a non-issue. Energy traders in particular have embraced this feature. Need to roll your contract before expiration? That's easy to do with the Roll Instrument feature found on the right-click context menu.
Speed, simple point-to-point speed, and efficiency. You'll find these attributes throughout TT. Where we could save the end user a click, we have, which will ultimately add to your performance.
Flexibility
Another key differentiator that customers praise is TT's flexibility. We've made it possible for users to truly modify and command the trading front end like never before.
New features like linked widgets and groups allow users to customize their experience. The ability to drive contracts in multiple widgets—i.e., a chart, MD Trader®, Time & Sales—by clicking on contracts in a different widget like Market Grid has been called out numerous times as huge space-saving and time-saving feature. The level of control offered in this grouping feature is beyond functionality found anywhere else. Customers have reached out to me repeatedly to applaud this innovation.
In a recent webinar, a customer who works with and trains a large group of traders told me he was elated that he can now share preconfigured workspaces. While this may appear to be an insignificant feature, the associated time savings is invaluable to his business as it allows him to more rapidly onboard traders.
In addition to personalizing the look and feel of your trading interface, TT gives you the ability to customize your trading logic. Both traders and developers alike can easily override the default behavior of Autospreader using Autospreader Rules. Users can apply rules to their Autospreader spreads to control the quoting and hedging logic as they see fit. TT provides a number of "canned" rules such as Inside Smart Quote. Users can copy and modify canned rules or write their own from scratch using an intuitive user interface.
TT's design also allows us to rapidly deploy new features. A trader at a prop shop wanted to be able to open an Autospreader contract in a tabbed MD Trader, with each leg shown in a tab. We built, tested and deployed this feature in just a few days.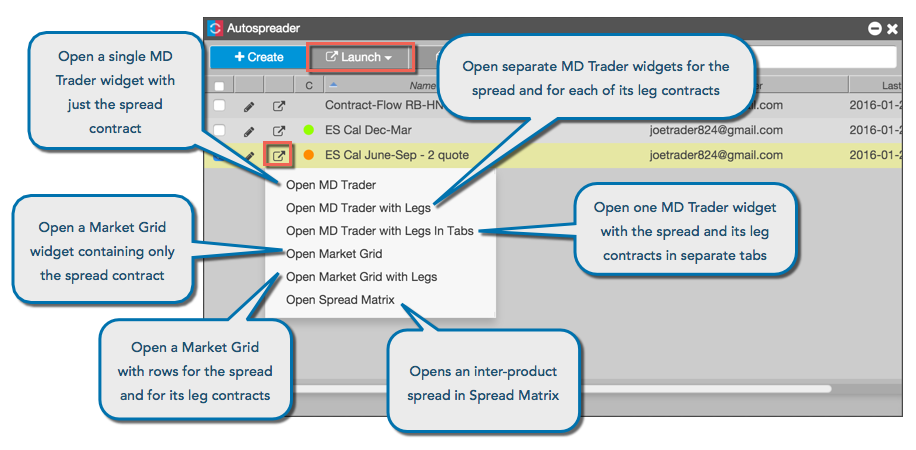 This is only a small sample of the new features that differentiate TT from other platforms. While our initial vision of a thin, fast, easily distributable platform has been met, we aren't done innovating. The TT platform has addressed some long-standing requests from our customer base. We've added advanced options trading functionality with Options Chain and a Volatility Curve Manager and a space-and-time-saving tool like windows within a workspace. We are listening, looking forward and crafting the tools that will continue to deliver an edge to our users.
Feedback pays dividends. If you'd like to provide me with some, please find me on Twitter at @patrickrooney, or reach out to @Trading_Tech.