← Back to X_TRADER® Help Library
ADL® Documentation
Market State Block
Operations
Market State Block compares the current market state of the specified instrument

against the user-selected market state (selected by double-clicking on the block).
If the states match,

will be TRUE, otherwise,

will be FALSE.
ADL Tip: The Market State Block should be used with the Ignore Market State enabled (located in the Variables Tab of the Information Panel). By default, this option is disabled and the algorithm will pause when any market reported by an Instrument Block in the algorithm is not in the Trading Session. However, since the Market State Block is used to design logic outside of the regular Trading Sessions, the usage of Market State Block will be rendered ineffective when the Ignore Market State option is disabled.


Double-Click Edit Window
Double-click on the block to bring up an edit window: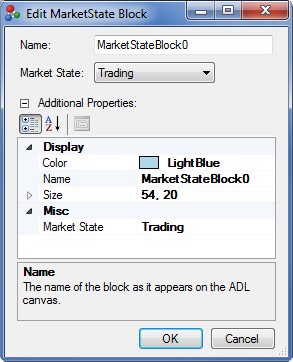 Market State: Select one of the available market states from a drop-down menu.

Example. Available market states for all exchanges TT™ connects to. Consult information regarding a specific exchange to learn whether certain market states are supported by that exchange.