← Back to X_TRADER® Help Library
ADL® Documentation
Time And Sales Block
Whenever a trade occurs for the specified instrument

, the Time And Sales Block outputs a discrete event message

containing information regarding the last trade (trade price or quantity).
Operations
The following blocks can extract and use the information contained within :

Value Extractor Block, Value Accumulator Block, State Block, Branch Block, Value Bucket Block,Discrete Min/Max Block, Discrete Order Block, Moving Average Block, and Logger Block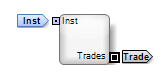 Note: Certain logic propagated from a Time And Sales Block discrete message could behave differently when running and algo in simulation mode, this is due to coalescing differences in the two environments. See Trading in Simulation Mode within the X_TRADER online help for more information on running algos in simulation.