← Back to X_TRADER® Help Library
Autospreader Documentation
Using the Autospreader Spread Pane Side-Bar
The Autospreader MD Trader Spread Pane includes a side-bar that allows you to modify your spread all in one location. It also allows you to open the Routing Configuration Dialog box to select a broker and customer (X_TRADER ASP environment) or just pre-allocate a customer account (non-X_TRADER ASP) when submitting orders.
To open the side-bar, click the side-bar tab in the Spread Pane.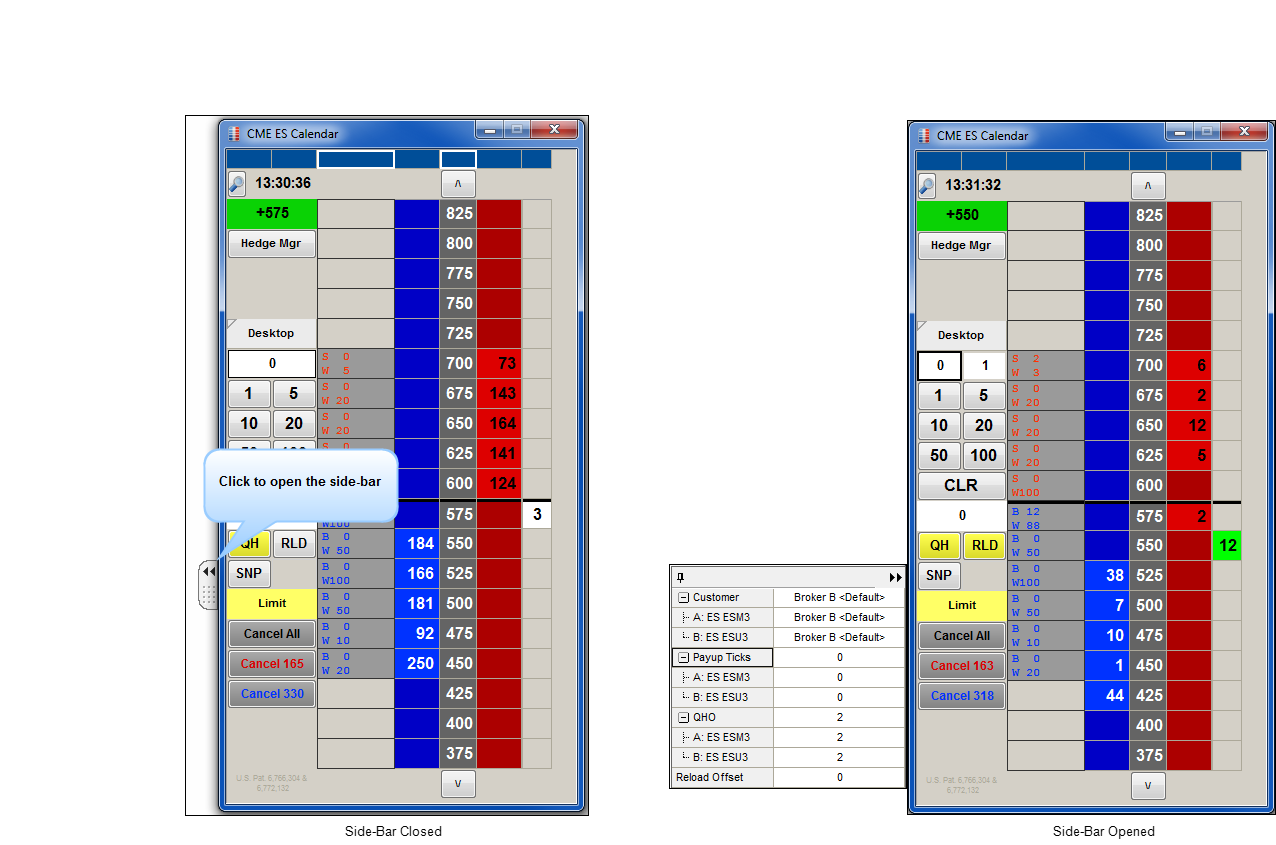 Using the side-bar, you can select or change which broker or customer account to use for submitting the spread or one of the legs.
To select a broker and customer account after launching a spread (X_TRADER ASP)...

Click the side-bar in the Spread Pane.
To select a broker for the spread, click the drop-down arrow in the Customer field of the Routing Configuration dialog box.
To select different brokers for legs of the spread, click the drop-down arrow in the leg field (e.g., B: ES EUS3)

If selecting a different broker for one of the legs, the customer account or any additional order routing or clearing information (i.e. FFT2, FFT3) is displayed for that leg.

Select a customer from the list displayed in the Customer section.
Select an order gateway (e.g., CME) if multiple gateways are available.

Click OK

Selecting a broker for the spread

Selecting a broker for one of the legs
To select a customer account after launching a spread (non-X_TRADER ASP)...

Click the side-bar in the Spread Pane.
To select an account for the spread, click the drop-down arrow in the Customer field of the Routing Configuration dialog box.
To select an account for legs of the spread, click the drop-down arrow in the leg field (e.g., B: FESX Sep).

Select an order gateway (if multiple gateways are available) and customer account. When selecting a different account for one of the legs, any additional order routing or clearing information (i.e. FFT2, FFT3) is displayed for that leg.

Click OK

Selecting a customer account for the spread

Selecting a customer account for one of the legs
In addition to changing brokers and customer accounts, the side-bar allows to you to do the following: