← Back to X_TRADER® Help Library
Autotrader™ Documentation
Profile Setup Page Overview
To open the Profile Setup Page:
Open Autotrader.
Right-click anywhere in the Autotrader™ grid to access the context menu.
Click

Profile Setup Page

.
You successfully opened the Profile Setup Page.
Use the Profile Setup Page to define the trading parameters Autotrader uses to submit orders to the market. Parameters include trading specifications (Bid/Ask prices, quantities, and offsets), quoting limits, and account information.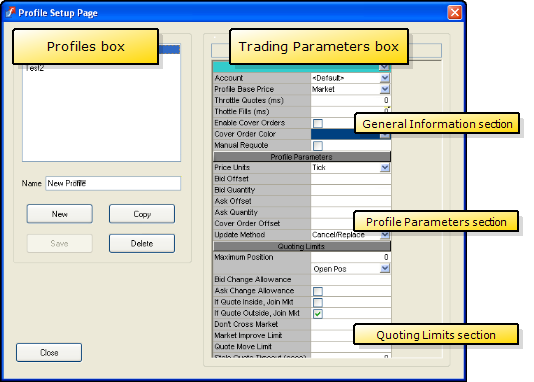 The Profile Setup Page has two main components:
Profiles Box: This box lists the profiles you create. These profiles contain the trading parameters you configure in the

Trading Parameters

box.
Trading Parameters Box: This box contains the trading parameters that make up a profile. The trading parameters tell Autotrader how and when to submit orders and interact with the market.