← Back to X_TRADER® Help Library
CME Gateway Documentation
Troubleshooting Market Segment Gateway Connectivity
Guardian
An order router connection is made for each Market Segment ID per Market Segment Gateway (MSGW) session configured in hostinfo.cfg. The Market Segment IDs are provided in CME-MSGWs.cfg. Each order router connection with corresponding Market Segment ID appears under the gateway Order Server in Guardian.
Log in as Administrator in Guardian, click on the gateway (e.g., CME-Z), then right-click and select View Source. Each order router appears as Member_Market-Segment-ID (e.g., T67004_56) as shown: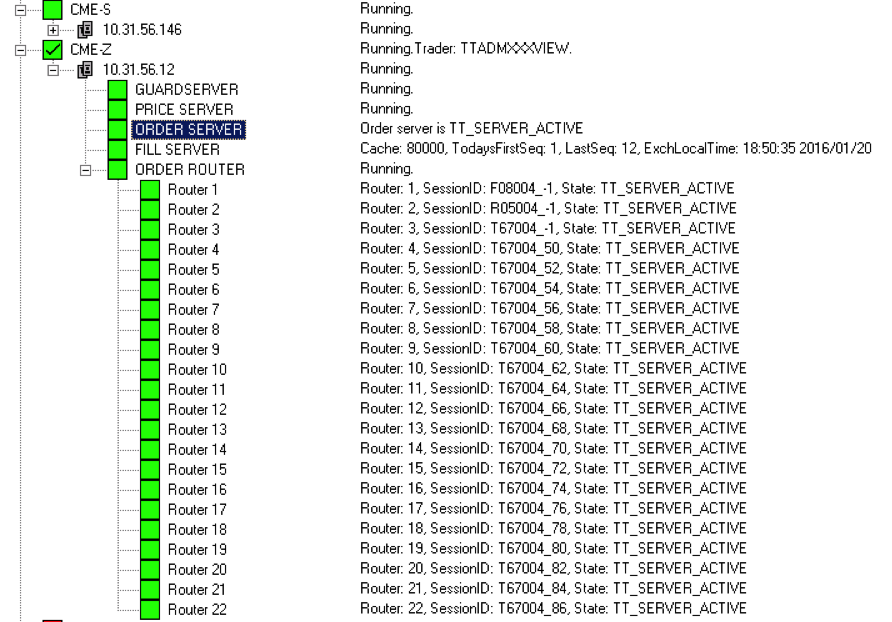 If there is a configuration error in CME-MSGWs.cfg or an issue affecting connectivity to a market segment, the order router (e.g., Router 7) appears half-green/half-red in Guardian as shown:
MSGW connectivity issues are also logged in the Order_Server.log file:
Example: Order Router connectivity error log message
20.01.2016 12:43:51.850 | 592 | INFO | 10068024 | State for session(T67004_56) changed to (down).
20.01.2016 12:43:51.851 | 592 | INFO | 10098094 | GW: session(T67004_56) status = Down (Logged Out).
Client Impact
If you trade a product in a market segment that is not configured in CME.MSGWs.cfg file, orders for these products will be routed via a Convenience Gateway (CGW) session.
If a MSGW connection is not established, an  X_TRADER® user will see the following reject message in their Audit Trail when the user enters an order or initiates an action on an existing order in the respective Market Segment: REJECT Cannot route order request. Session for router is down.
CME Gateway Log Files
Another way to check for connection issues, especially if you do not have admin permissions in your environment (e.g, X_TRADER ASP environment) is to check the Order Server log files, which contain messages that indicate connection status.
The following log files are populated when connecting your CME Gateway iLink order sessions to Market Segment Gateways:
*send-recv_<date>.log
*OrderServer_<date>.log