← Back to X_TRADER® Help Library
FIX Adapter System Administration Documentation
(DC) Specifying Global Configuration Settings
About the global adapter settings
Each TT FIX Adapter contains a group of settings that dictates general operational behavior.
Standard settings
The following figure shows the standard global settings used for a drop copy TT FIX Adapter configuration.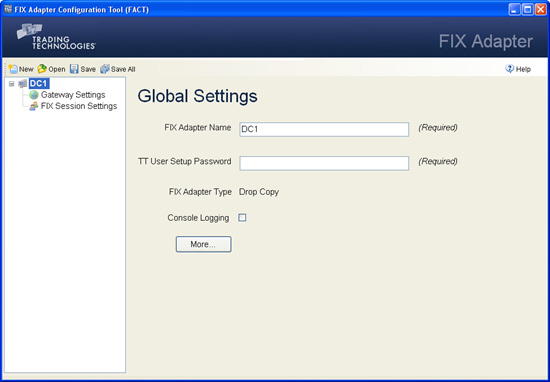 The following table describes the various settings
Field Name
Description
FIX Adapter Name

Name to identify this TT FIX Adapter configuration. This name is used as follows:

FACT generates the configuration file based on the name, as in NameAdapter.xml.
TT FIX Adapter uses it to log in to TT User Setup to retrieve its TT Gateway login credentials (TT Universal Login).

The name must adhere to the following rules:

Contain only alphanumeric characters, hyphens (-), and underscores (_)
Cannot exceed 11 characters
Cannot contain the string, Adapter
Must match the name specified during installation

For more information about creating TT FIX Adapter IDs, refer to the TT User Setup System Administration Manual.

TT User Setup Password

Password associated with the FIX Adapter TT Universal Login (Required)

FIX Adapter Type

Display-only field that identifies the configuration type of this TT FIX Adapter.

Console Logging

Whether to write log messages to the console window in addition to log files.

Console logging can significantly impact performance. Consequently, TT strongly recommends that you enable console logging only during the development, testing, and debugging phases.
Additional settings
The following figure shows the additional global settings used for a drop copy TT FIX Adapter configuration.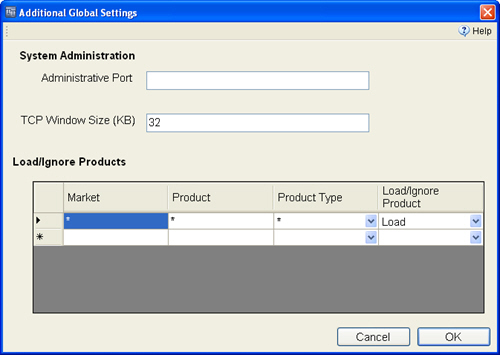 The following table describes the additional settings.
Field Name
Description
Administrative Port

Port number over which you can dynamically reset the message sequence number of a specified FIX session.

Note: TT recommends using port 10001 or higher.

For more information about resetting message sequence numbers, refer to Managing a TT FIX Adapter.

TCP Window Size (KB)

Size of the TCP window buffer size

Caution: Do not change this value unless TT Support Personnel instructs you to do so.

Load/Ignore Products

List of products to include or exclude when TT FIX Adapter downloads contract data during initialization. To specify a product or set of products, you supply the following values to create a matching rule.

By default, TT FIX Adapter does not download any contract definitions during startup. Instead, TT FIX Adapter downloads contracts on an as-needed basis (i.e., for all contracts for which it receives a fill or order from any TT Gateway to which it is configured to connect). TT recommends that you not change the default value unless you subscribe for market data or downloading security definitions.

If you download contract data for SPREAD or STRATEGY product types, TT FIX Adapter also downloads all contracts that comprise the legs, regardless of the individual leg product settings.

Market

Name of market on which the product trades, as set in Tag 207 (SecurityExchange).

If you specified a Market Name in the Individual Gateway Connection Settings/Additional Options dialog, you must use that same value in this field.

Product

Product symbol as set in Tag 55 (Symbol). You can also use * to match all symbols.

Product Type

Product types to match. You can specify any of the following values or * to match all product types:

Bond
Energy
Forex
Future
Fxndf
Option
Spread
Stock
Strategy

Load/Ignore

Whether to include or exclude the products that match the rule criteria.

Default: Ignore
Note: If you instruct FIX Adapter to load all contracts (*,*,*,Load), FIX Adapter retrieves, during startup, all contracts on all TT Gateways to which it connects. If you connect to many TT Gateways, the amount of data retrieved could cause FIX Adapter to exceed the maximum application memory footprint allowed by the operating system.
How to set the global settings
To set the global configuration settings:
In the Configurations Tree Navigation pane, select the name of the adapter you want to configure.

The Global Settings appear in the Settings pane.

Specify values for each of the fields.

If you want to access the additional settings, do the following. Otherwise, skip this step.

Click More.

The Additional Global Settings dialog appears.

Change the desired values, and click OK.

Click Save.