← Back to X_TRADER® Help Library
Guardian Documentation
Daemon Setup Dialog Box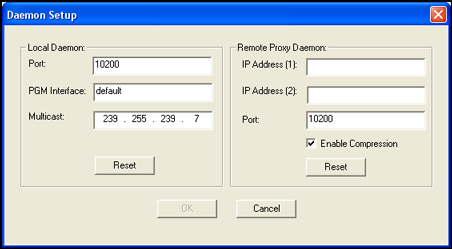 You use the Daemon Setup dialog box to configure the local and remote host, port, interface, and multicast settings. These configuration options, via the Remote Proxy Daemon settings, allow you to send messages to a local TTMD (that transmits those messages) rather than sending traffic to a remote node, which in turn transmits your messages.
In addition to the aforementioned uses, the daemon proxy offers the following features to client applications:
Failover:

This is when you configure the daemon proxy to automatically contact a backup host when a connection to the proxy host is unavailable.

Tunneling:

This is when the daemon proxy establishes a single connection per service and tunnels traffic from all clients through that single connection.
Note: Guardian provides field validation for the Daemon Setup window whereby you receive a pop-up notification for fields in which you enter an unacceptable IP Address.
For a detailed description of configuring a remote connection, refer to the TT Trading Systems - Network Administration Manual Version 7.X.