← Back to X_TRADER® Help Library
Guardian Documentation
Using Menu Options
File Menu Overview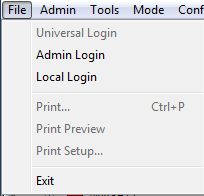 The File menu offers the following options:
Command
Function
Universal Login
Allows you to use a single Login ID for each of your traders to log into multiple markets. If TT SIM is installed in your environment, you can select LIVE to log in using non-TT SIM mode (which is the default), or TT SIM to log in using TT SIM mode.
Trader Login

Allows you to log in to individual exchanges without closing X_TRADER®. The Trader login ID cannot be used by a second trader for the purpose of logging off the original user and logging in with a new Trader ID. The Guardian menu will display the second trader's ID, but all actions for that exchange will be performed under the original Trader's ID and account. The Audit Trail and other windows will confirm the use of the original Trader's ID.

Note: This option is disabled in Guardian 7.8.0 and higher; it is removed in Guardian 7.17 and higher.

Admin Login
Allows you to log in with your TT Administrator User Name and password to access the

Admin

menu for software license, Currency Table, and Product Table setup, as well as managing risk parameters, unlocking locked accounts, and distributing DH Parameters. Performing an Admin login also grants you access to the

Wan Routing

menu.
Local Login
Allows you to log in with the Windows Administrator account or an account with Administrator privileges to access the Wan Routing menu.
Print
Lets you print the active document.
Print Preview
Displays the document exactly as it will look when printed.
Print Setup
Lets you specify a printer and change printer options from the standard Windows

Print Setup

dialog box.
Exit
This option closes the

Guardian

window, but does not stop the Guardian Service.
Admin Menu Overview
When you log into Guardian as an adminstrator (refer to ), the Menu bar adds the Admin and Wan Routing options.
A TT Administrator configures the trading environment using the following options:
Command
Function
License Setup
Lets you transmit an updated TT software license file to the TT Gateways via Guardian.
Product Table Setup
Lets you view the product symbols and types, and view and edit point values, currencies, associated Tick Tables, price formats, and the numerators and denominators for calculating tick size.
Currency Table Setup
Lets you select a primary currency for use in P/L and credit limit calculation and manually enter conversion rates.
Logout ITM
Lets you shut down an order router and transfer the login(s) to a separate functioning order router on an available gateway. Applies only to eCBOT and LIFFE gateways.
Risk Parameters Setup
Allows you to set credit limits and view, edit, and create various other risk parameters through and .

Note: This item is available only in versions earlier than Guardian 7.17.

Load Risk Parameters
Obtains the most recent risk parameters from the TT Gateway.

Note: This item is available only in versions earlier than Guardian 7.17.

Publish Risk Parameters
Publishes all risk parameter changes/additions to the Gateways.

Note: This item is available only in versions earlier than Guardian 7.17.

Export Risk Parameters
Saves loaded parameters and exports all risk records to .csv files.

Note: This item is available only in versions earlier than Guardian 7.17.

Locked Out Accounts
Lets you see locked out trader's accounts and opens a locked out accounts window whereby you select and unlock those accounts. After 3 consecutive failed login attempts (incorrect password only), the trader account is locked out. The TT Administrator must use this option to unlock the account. This option is available only to administrators and not to TTORDs.
Distribute DH Parameters
Generates and distributes a DH Parameters file (refer to ), which Guardian uses for encryption of your login information.
Tools Menu Overview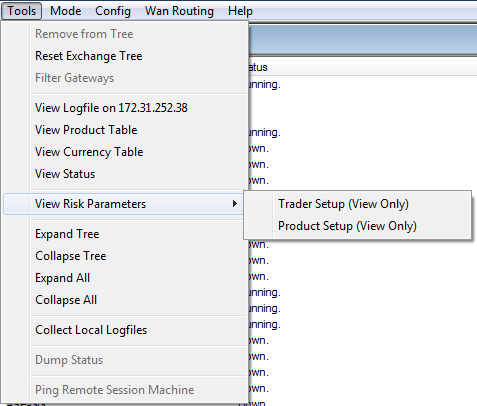 The Tools menu allows you to access view only versions of the Product Table, Currency Table, Risk Parameters, and log files. In addition, you can change the default Guardian window with the Remove from Tree, Expand Tree, and Expand All options. If you log on as the TT administrator, the following additional options are available: View Status, Dump Status, and Ping Remote Session Machine.
The Tools menu offers the following options:
Command
Function
Remove From Tree

Removes an exchange from the Guardian tree. An exchange with a red (Down) status can be removed. Once the exchange comes up, it will be added to the tree.

Note: If GuardServer is running on an otherwise inactive gateway, the exchange will reappear in the display.

Reset Exchange Tree
Removes all the exchanges servers from the exchange tree that are currently down (red status).
Filter Gateways
Provides the option to receive status from only those Gateways in which Guardian is currently logged.
View Local Logfiles

Reviews the TT (Trading Technologies) log for the local machine. The log file provides details for general, audit, and warning messages related to WAN routing, software licenses, login requests, status of exchange gateways, and X_TRADER gateway processes. A TT Administrator login ID is required to view the gateway log(s).

Note: When you select a specific IP Address from the exchange tree, this option changes so that the logfile associated with the address you selected displays.

View Connected Clients
Allows you to view client information such as Product, IP Address, PID (Process ID), Exchange, Member, Group, Trader, and Server. Administrator login required.

Note: This item is available only in versions earlier than Guardian 7.17.

View Product Table
Reviews the product table settings.
View Currency Table
Reviews the primary currency (used for P/L and credit limit calculations) and entered exchange rates.
View Status
Displays the status of an order router on an exchange. You can use this option at any level of the tree, but it is primarily for order routers.
View Risk Parameters
Allows you to view the Trader Setup and Product Setup for the Trader ID currently logged onto the workstation. This option applies only if you are an administrator and only for loaded parameters.
Expand Tree
Expands the selected branch of the tree.
Collapse Tree
Collapses the selected branch of the tree.
Expand All
Expands the entire tree.
Collapse All
Collapses the entire tree.
Collect Local Logfiles
Collects and zips log files and configuration files to assist in troubleshooting. Locate the logfiles at

C:ttlogfilesIPAddress_DD.MM.YYYY_clt.zip

Dump Status
Dumps the status of a selected gateway server (for example: PRICE SERVER, ORDER SERVER, or GUARDSERVER). The target server produces an output file on the selected gateway server hard drive that contains internal status information. This information is useful for troubleshooting purposes.

Note: Enabled only for administrative logins.

Ping Remote Session Machine

Pings each remote Guardian.

Note: Sometimes the remote session IP address is not the same as the remote Guardian IP address, for example, if the remote session IP address is a WAN router. In this case you must add the remote session IP address to the Aconfig local setting "AConfig.Core.Guard.Guardian.RemoteSessionIP" for each remote Guardian.
Note: To access the Tools menu, right-click anywhere in the window where the Guardian tree is displayed.
Config Menu Overview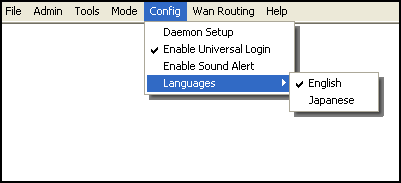 This menu lets you access the , Enable Universal Login, and Enable Sound Alert options.
The Config menu offers the following options:
Command
Function
Daemon Setup
Configures the local and remote host, port, interface, and multicast settings.
Enable Universal Login

Allows for a user to perform a single login in order to access multiple exchanges.

Note: For new installations, this option is enabled by default. For upgrades, Guardian preserves the previous setting.

Enable Sound Alert
Provides an audio "beep" sound from your machine whenever a server comes up or goes down.
Languages
When Guardian is installed on a Japanese Operating System (or an Operating System running a Japanese language pack), the Languages option allows a user to select English or Japanese as the Guardian and X_TRADER interface language.
Wan Routing Menu

The Wan Routing menu offers the following options:
Command
Function
Wan Router Setup
Opens the

Wan Router Setup

dialog box, which allows you to configure your local Wan Router.
Start Wan Router
Starts Wan Routing on your local machine.
Stop Wan Router
Stops Wan Routing on your local machine.
Help Menu

The Help menu offers the following options:
| Command | Function |
| --- | --- |
| Help Topics | Accesses the Help System. |
| TT Remote Help Center | Launches a browser directed to http://help.tradingtechnologies.com |
| About Guardian | Displays the version and copyright information for Guardian. |