← Back to X_TRADER® Help Library
Guardian Documentation
Local Login
Performing a Local Login for Windows Administrator
The Local Login option allows a Windows Administrator to access the configuration menu (refer to Config Menu Overview).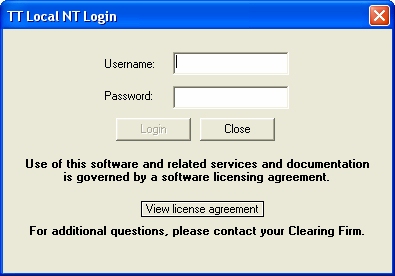 To perform a local login:
Note: An administrator who uses the TT User Setup Super Administrator or Local Login to access additional services will not interfere with the Trader's exchange login.
To open Guardian, double-click the TT icon in the System Tray.
On the

File

menu, click

Local Login

.

The TT Local Login dialog box displays.

Highlight the contents of the

Username

box, and then type the user name of the administrator's account.
Press

TAB

.
In the

Password

box, type the password for the administrator's account.
Click

Login

.
You now have access to the WAN Routing options in the Config menu.