← Back to X_TRADER® Help Library
Guardian Documentation
Collect Local Logfiles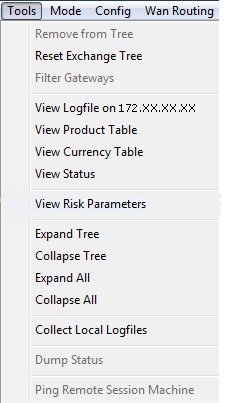 The Collect Local Logfiles option automatically collects and zips logs and configuration files to assist you in troubleshooting a problem at the local machine. You or the TT System Administrator can then email the zip file to the Trading Technologies Customer Support Center.
To collect log files:
On the Tools menu, click Collect Local Logfiles.
The following message appears.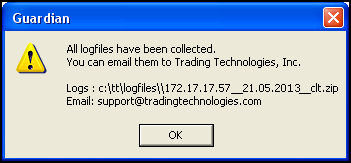 The zip file, <IP address>_<DDMMYYYY>.zip, will be placed in your <root drive>:ttlogfiles directory.
If they are present on the local machine, some of the following types of files will be included in the zip file:
TT application and local machine-specific diagnostic settings. For example, netstat, ipconfig, tcpip registry, etc.
TT application installation log files for each installed product version.
TT application log files.
TT application crash dump files.
TT client application audit logs.
TT application-specific CSV export files.
TT server or client-specific data files. For example, order tables, risk limits, risk audit files, license files, currency table, etc.
Guardian Product Table fields.
TT Gateway audit files.
TT application configuration files, including

Aconfig.xml

and

Aconfig_local.xml

.
The Tick Table.
The Windows Dr. Watson error log.
Information about the local host.
Login profile-specific information on a local machine.