← Back to X_TRADER® Help Library
Guardian Documentation
Filter Gateways
Use the Filter Gateways feature to reduce the number of status heartbeats received from a gateway in which you are not currently trading. For example, if you wish to trade on the CME only, then log onto the CME Gateway, select Filter Gateways, and traffic from all other gateways (eCBOT, LIFFE, etc.) is no longer received.
To filter a gateway:
On the

TT Exchange Login

dialog box, log onto a gateway (refer to the topic called Performing a Trader Login).
On the

Tools

menu, click

Filter Gateways

.
The title bar of the TT Exchange Login dialog box displays with the words Filtered Gateways whenever this option is successfully implemented.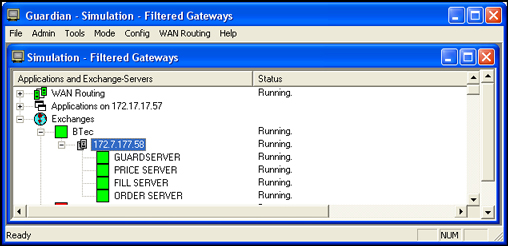 Restart Guardian.
Filtered gateways appear with a red box in the exchange list.