← Back to X_TRADER® Help Library
Guardian Documentation
View Currency Table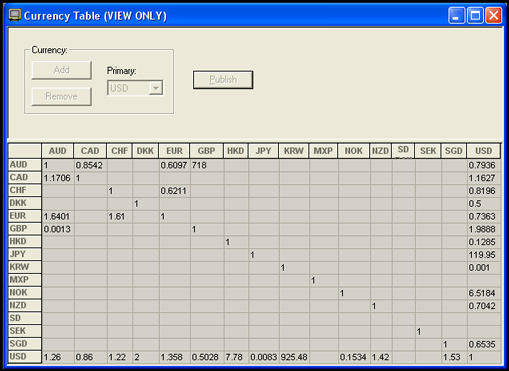 You use the manual currency conversion table to calculate the Profit/Loss data in the Position pane of the Fill window. You can view this data without additional logins. However, currency table set up requires a TT administrator login ID.
Using the pre-market risk management tool requires settings that are consistent throughout your environment.
The following lists the abbreviations for the currencies that Guardian™ supports:
ARS: Argentine Peso
ATS: Austrian Schilling
AUD: Australian Dollars
BEF: Belgian Franc
BRL: Brazilian Real
CAD: Canadian Dollar
CHF: Swiss Francs
DEM: German Marks
ESP: Spanish Peseta
EUR: European Monetary Unit
FRF: French Franc
GBP: British Pounds
HKD: Hong Kong Dollar
INR: Indian Rupee
ITL: Italian Lira
JPY: Japanese Yen
KRW: S. Korean Won
NLG: Netherlands Guilders
PTE: Portuguese Escudo
RUR: Russian Ruble
SGD: Singapore Dollars
USD: United States Dollar
To view the Currency Table:
Click the Tools menu, and select View Currency Table.