← Back to X_TRADER® Help Library
ICE Strategies Documentation
ICE Strategies
This topic is intended for Trading Technologies customers who wish to create options strategies on ICE.
Strategies are created from the Create Strategy window. There are several ways to seed contracts into the window. For example, you may seed contracts directly from Market Explorer or the Market Grid right-click context menu. Alternatively, you may drag and drop contracts from the Market Grid directly into the Create Strategy window. You may also use a pop-up window called Instrument Explorer allowing you to filter instruments by Market, Product Type, Product, and Instrument. The following procedure describes how to use Instrument Explorer to seed instruments into the Create Strategy window.
Creating Strategies
To create a strategy...
Select (the Create Strategy icon) from the X_TRADER® Control Panel. This displays the Create Strategy window.

Use Instrument Explorer to compose each Leg of the strategy:

Click the <Select a Contract> field to open Instrument Explorer.
Select the market (e.g., ICE_IPE) where you would like to create the strategy.
Select OPTION in the Product Type field. This displays options in the Product field.
Select the product (e.g., C) in the Product field. This displays all deliverable strike prices in the Instrument field.
Select the desired strike price in the Instrument field.

Click OK to add the instrument to the Creation pane.

Use the Buy/Sell (B/S) button to declare if you are buying or selling each leg.
Use the Quantity field to set up ratio spreads. You may accept the quantity of one (1) or enter a different quantity using the keyboard.
Select the strategy type (e.g., Butterfly) in the Strategy Type drop-down list.
Click the Create button. This submits the strategy to the exchange for validation. Once validated, the strategy displays in the Show Strategies list and Market Explorer.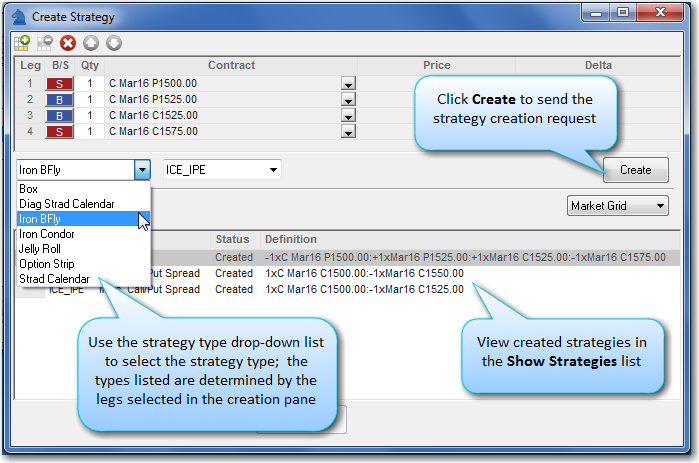 Creating Outrights
The ICE exchange lets you create new outrights. In other words, you can create a new strike/expiration. Although X_TRADER® supports spontaneous display of newly created outrights as they occur in real time, you cannot create outrights in X_TRADER®.
Re-Creating Strategies
Saving the Create Strategy window in an X_TRADER® workspace preserves your strategy definitions so they display in the Saved Strategies list the next time you trade.
To re-create a strategy on the TT Gateway...
Log in to X_TRADER

®

and open your workspace with the strategy.
Navigate to the Create Strategy window.
Highlight the strategy in the Saved Strategies list and click the Re-Create button.
Note: Please contact your Account Manager if you need additional assistance creating/re-creating strategies.