← Back to X_TRADER® Help Library
Trading Bvmf Documentation
Cross Orders
In the Brazilian markets, Cross orders are often submitted if brokers (referred to as desk traders by the exchange) see a bid and offer with their brokerage house code for the same contract. Because the bid and the offer are occurring within their own firm, these traders can cancel the two off-setting orders and submit a Cross order.
Warning: Only brokers may submit Cross orders. Cross orders entered by traders with direct market access (DMA) will be rejected. A DMA trader is a trader who is not a member of a brokerage house, but is still required to have trading and clearing relationship with an exchange-approved firm.
The exchange only allows cross orders submission in liquid markets. Cross orders are supported during the Pre-Open, Open trading state, Auction and Pre-Close market periods.
Before entering Cross orders, configure account numbers using the Customer Defaults window. Access the window from the X_TRADER Control Panel Settings menu | Customer Defaults.
The Wholesale Orders window supports the submission of two-sided BVMF cross orders. Select Wholesale Orders in the Market Grid right-click context menu to display the Wholesale Orders window. Complete the appropriate information for each side of the cross order, select the desired Order Gateway and click the Send button to submit the cross order.
Note:Order crossing must be enabled in the Order Entry global properties.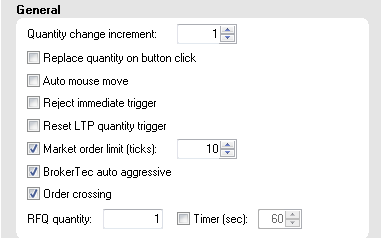 To submit a two-sided Cross order...
Right-click the Market Grid and select Wholesale Orders.

This opens the Wholesale Order window.

Note: If you have the Wholesale Order window open, you can launch Instrument Explorer to select the desired contract.

Set the quantity and price.

Type the Buyer account in the Buyer FFT2 field.Select Cross in the Modifiers drop-down list.

Type the Buyer account in the Buyer FFT2 field.
Type the Seller account in the Seller FFT2 field.
Select the desired Order Gateway in the OrderGW field.
Click the Send button.
Note: Completed cross trades display with a yellow background in the Time and Sales window.