← Back to X_TRADER® Help Library
TTM Network Administration Documentation
Manually Configuring TTM Logging Through TTLogger
Overview
You can also take advantage of the Windows event log functionality to record TTM messages generated from TT applications. You can then use the Windows Event Viewer to monitor log messages, similar to the following.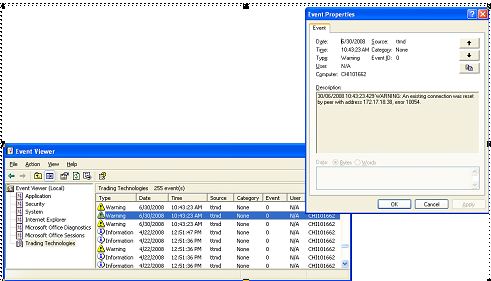 Windows Registry Keys
TT stores the following logging settings in the Windows registry in the folder: HKEY_LOCAL_MACHINESOFTWARETrading TechnologiesTTLogger, as shown: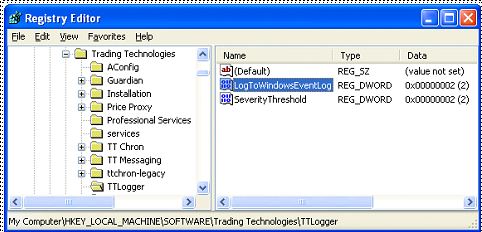 Note
TTM and FMDS use their own configuration files for these settings, so do check these registry keys.
The following table describes the registry keys.
TTM Logging Windows Registry Keys
Registry Key
Description

LogToWindowsEventLog

Sets the type of Windows Event Log to which TTM writes. Available values include:

0

: TTM does not write to a Windows Event Log.

1

: TTM writes to the Application Event Log.

2

: TTM writes to a custom Event Log called Trading Technologies.

By default, the TTM Daemon behaves as if set to 0.

SeverityThreshold

Sets TTM to log to the Windows Event Log all error messages whose severity level matches or exceeds the severity listed in this parameter.

From most severe to least, this parameter uses the following values (with increasing values cumulative):

-

2

(0xfffffffe)

: TTM logs only messages with Critical severity.
-

1

(0xffffffff)

: TTM adds messages with Error severity.

0

: TTM adds messages with Warning severity.

1

: TTM adds messages with RiskInfo severity.

2

: TTM adds messages with Info severity.

3

: TTM adds messages with Audit severity.

4

: TTM logs messages of all severities

By default, the TTM Daemon behaves as if set to 0xfffffffe.

Note

Because a Windows registry DWORD does not accept negative values, you must specify negative values in hexadecimal notation.
How to Configure the Registry Keys
To configure the registry keys for TTM logging:
From a Windows command prompt, type

regedit

to open the Windows

Registry Editor

window.
Navigate to the following section:

HKEY_LOCAL_MACHINESOFTWARETrading TechnologiesTTLogger

LogToWindowsEventLog
SeverityThreshold

If they do not already exist in the registry, create the following DWORD entries:
Set the values as desired.
Close the

Registry Editor

window.