← Back to X_TRADER® Help Library
X_TRADER® Documentation
Floating Windows Overview
You are viewing X_TRADER Version 7.17 and higher. For earlier versions, click here
The Floating Order Entry feature provides a detached window used for submitting orders and that you can place anywhere on your screen. You can use one or multiple Floating Order Entry windows to place orders for the Market Grid, Order Book, Autotrader, Spread Matrix, and Quote Board. Floating Order Entry is enabled from the context menus (right-click) in these windows.
You also need to enable your floating windows and order entry style in the X_TRADER Global Properties menu.
Enable the desired Floating Windows from the Floating Windows section in the Settings | Properties | General tab.

You may enter and manage orders using one of three Floating Order Entry styles: Order Pane, MD Trader or Order Bar.
Select the desired Floating Order Entry style from the Floating Order Entry section in the Settings | Properties | Order Entry menu.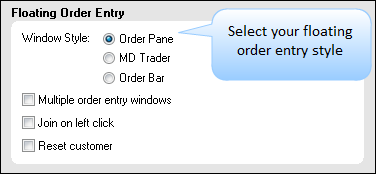 When the floating Order Pane is used, it remains open upon order submission and is seeded with the contract and order parameters. The quantity changes to either zero (0) or your default order quantity. Subsequent clicks in the parent trading window reseed the floating Order Pane.
After submitting an order using the floating Order Pane, the window re-seeds based upon subsequent contract selection in the parent trading window.
Customizable Hot Keys are available to access the Order Bar, which is a small, streamlined Floating Order Entry pane designed for quick order entry.