← Back to X_TRADER® Help Library
X_TRADER® Documentation
Fills Alert Dialog Box
You are viewing X_TRADER Version 7.17 and higher. For earlier versions, click here
When enabled, the Fills Alert dialog box displays on the desktop as a fill arrives from an exchange.
Note: X_TRADER 7.17.30 and higher contains an enhancement that adds parent order fills to the Fill Alert Dialog.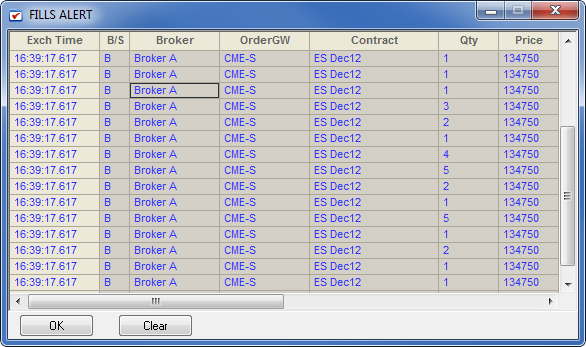 To enable the Fills Alert dialog box:
From the

Control Panel

, click the

Settings

menu and choose

Properties

.
Click the

Fill

tab.
Click to select the

Fills Alert

checkbox.
If you want to only be alerted on your own fills, click to select the

Only Alert on Own Fills

box.

Note: Using this feature, you do not have to enter a Trader ID to display your fills. However, if you place an order using an account # mapped to a TTORD ID you are not logged in under, you will not receive the fill alert.

Click

OK

.
Fills Alert Dialog Box Column Descriptions
| Column | Description |
| --- | --- |
| Exch Time | The time your workstation receives the fill. |
| BS | Buy or Sell in reference to an order. |
| Broker (X_TRADER ASP only) | The broker associated with the fill. |
| Order GW | The gateway that the order was placed on. |
| Contract | The month and year of expiration for the contract. |