← Back to X_TRADER® Help Library
X_TRADER® Documentation
Order Pane
You are viewing X_TRADER Version 7.17 and higher. For earlier versions, click here
The Order Pane (top pane) supports order template functionality, allowing you to pre-load the Order Pane with custom trading parameters and place native and synthetic orders quickly and efficiently. You may optionally detach the Order Pane from the Market Window for use as a floating order entry window.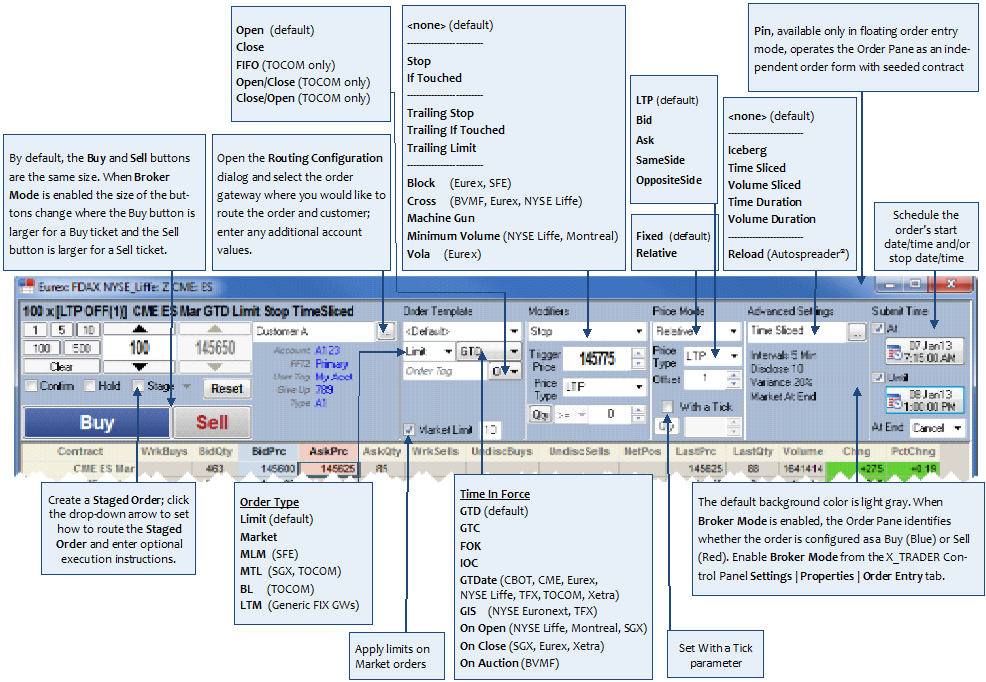 Market Window Order Pane
Synthetic order functionality is only available while logged into X_TRADER and a Synthetic Strategy Engine (Synthetic SE) server. See the Synthetic Orders in X_TRADER topic in X_TRADER Online Help for additional details about how TT supports synthetic order functionality.
TT designed order entry with Brokers in mind so they can quickly and confidently buy or sell. When Broker Mode is enabled on the Settings | Properties | Trading tab, the Order Pane background identifies whether the configured order is a Buy (Blue) or Sell (Red). The size of the Buy/Sell button changes with a larger Buy button for a Buy ticket and a larger Sell button for a Sell ticket. These order entry styles will allow you to confidently buy or sell only when the corresponding Buy or Sell button is clicked in the Order Pane.
An optional safety Confirm feature is available which prompts you to confirm the desired action before sending the order to the market. The background color of the Confirmation window indicates whether the configured order is a Buy (Blue) or Sell (Red).