← Back to Trade Talk Blog
Two years ago at the annual FIA Boca conference, we announced our plans to rebuild our flagship X_TRADER® platform. Our goal was to make the tools that our customers had depended on for 20 years even faster, more flexible and more accessible than ever before. Then last year in Boca, we announced the commercial availability of the new platform, which we simply call TT®.
Now as our industry leadership gathers once again this week in Boca, I'm excited to report we've reached several key milestones with regard to performance, functionality, market connectivity and distribution in the platform's first year.
TT is now the fastest commercially available trading platform
This is a bold statement, but our internal testing and customer feedback supports this claim.
When we launched TT one year ago, testing showed it to be twice as fast as X_TRADER. This was a significant achievement as one of X_TRADER's strengths has always been speed. Fast-forward 12 months and now the TT platform, which runs on highly tuned, collocated Linux servers and utilizes state-of-the-art networking infrastructure, greatly surpasses the initial production release of TT.
Some of the most important and relevant performance enhancements are specific to Autospreader®. We regularly test hedge latency (i.e., the wire-to-wire time of receiving a fill to sending a hedge order) and requote latency (i.e., the wire-to-wire time of receiving a price to sending a quote order) in a lab.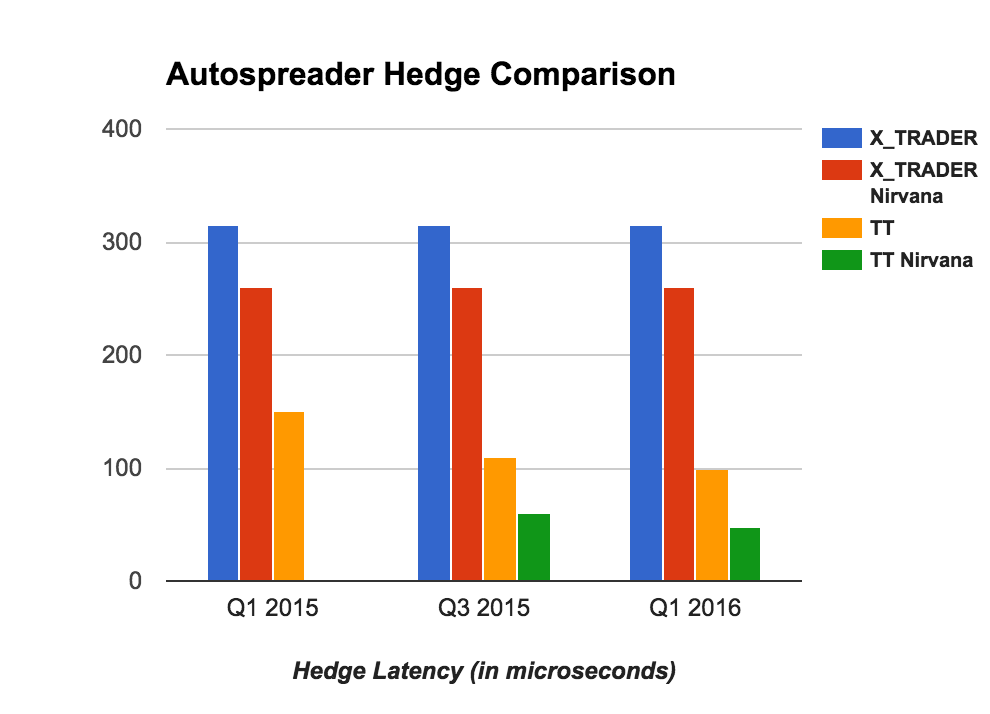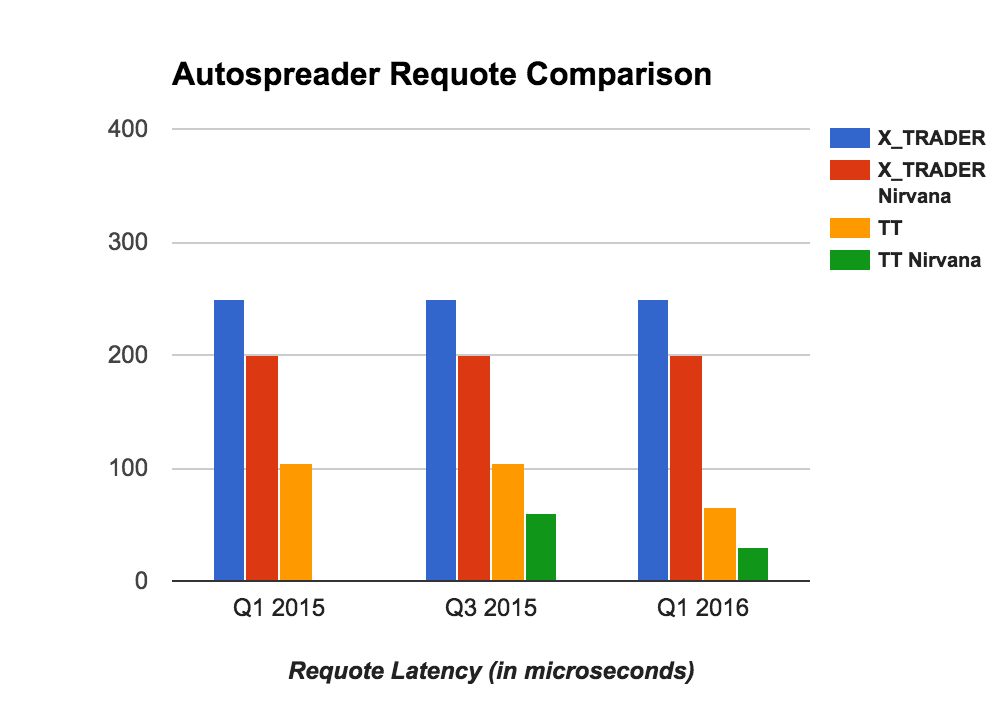 In the past year, we've decreased Autospreader hedge latency in TT by a full third. Compared to X_TRADER, the latency reduction measures nearly 70%.
The decrease in Autospreader requote latency is also impressive, with a reduction of nearly 75% over X_TRADER and nearly 40% compared to TT one year ago.
We're also happy to report that the numbers we see in live production do not deviate much from those measured in the lab. For instance, our median hedge latency hovers around—and sometimes under—100μs, and median requote latency is consistently 65μs.
But we aren't stopping there. Next quarter, we'll begin offering what we've historically called "nirvana" deployments of Autospreader on private dedicated servers. Current test results show an additional 50% reduction in hedge and requote latency compared to current standard deployments. Stay tuned for more details on this.
We anticipate these same performance characteristics for our ADL® and TT SDK platforms as well later in 2016. We'll discuss these platforms in more detail throughout the year.
Innovating at a faster rate than ever before
We're releasing new functionality for TT every few weeks, quickly adding features that our customers know and love along with new ones that further raise the bar. Some of the most noteworthy features brought to market over the past year include:
And as our CTO Drew Shields said last week in Extending the TT Ecosystem, not only is TT rapidly approaching market parity with X_TRADER, but soon exchanges and liquidity providers will be able to write their own connections to TT through an open API—something that was never possible with X_TRADER.
TT is broadening its global reach
The TT platform adoption rate is accelerating as more of our FCM partners are now migrating their existing customers to TT and onboarding new users. Our most recent additions include R.J. O'Brien & Associates, which is the oldest and largest independent FCM in the U.S., and more announcements are coming.
RJO's Chief Customer Officer Matthew Rees: "As a long-time client of Trading Technologies, we're excited about making the new TT platform available to our clients."
Exchanges, too, are expanding our user base by distributing TT directly to their market participants. We're already working with the European Energy Exchange (EEX), Nasdaq Futures Exchange (NFX), Nasdaq Commodities and FEX Global, and more exchange partnerships are in the works. These exchanges are choosing TT for several reasons:
EEX's Chief Operating Officer Steffen Köhler: "TT's advanced technology helped us to heavily reduce customer onboarding times which in turn enables much quicker access to trade our markets."

CEO of NFX Magnus Haglind: "We are very pleased with the close cooperation we are having with Trading technologies and the innovations they are providing such as aggregation and block trade reporting. We are pleased with how well the TT solutions work with the NFX market, and more than 50% of the NFX central limit orderbook volume is currently originating from a broad base of firms using TT trading solutions."
Global Head of Nasdaq Commodities Bjørn Sibbern: "The cross-Atlantic partnership between TT and Nasdaq Commodities has now reached a new milestone. We are very pleased that we now see the first trades and look forward to working with TT to bring in new trade flows to the market and achieve mutual distribution benefits. The successful launch of the TT front-end is aligned with our commitment to offering possibilities and building win-win relationships with for our ISV partners."
FEX Global's Group Chairman Brian Price: "TT is ambitious and proactive in building its product and brand in the Asia, where there is a strong demand for new technology. With this partnership, our commodity and energy trading clients can utilize the TT high-performance, go-anywhere platform to access FEX Global markets and receive the same outstanding support here in Asia."
And we're expanding the use of TT among the traders of tomorrow through our TT CampusConnect™ program, which brings our software to universities around the world at no cost. At present, 33 of our 74 university partners are using the TT platform on campus, and we are in the process of migrating the others.
But we're just getting started
When we reconvene in Boca one year from now, one thing will be certain: the TT platform will look very different from today, including functionality that we've never supported in our 22 year history. For example:
We'll support options trading with an options chain, volatility management, historical vol analysis, portfolio risk analysis, integrated options analytics throughout the UI, pre-trade risk and integration with ADL.
We're working on a robust charting and analytics offering that will provide 10 years of historical tick data, trade analytics and backtesting.
Our enhanced automated trading offering will include not just new APIs and full ADL parity, but also algos driving algos and a globally-distributed Autospreader.
When adopting any dramatically new technology, a firm will face plenty of doubts and challenges. Certainly in the past year, we have faced many head-on and learned much along the way. But one thing about the past year has left no doubts: TT is the platform that will be carrying us forward to continuous growth and innovation for our business and our end users.
Keep in touch with the latest developments by following us on Twitter at @Trading_Tech, on YouTube at TradingTechTV and on LinkedIn. We've accomplished more this past year than in any year before, but we're just getting started.