← Back to X_TRADER® Help Library
ADL® Documentation
Boolean Block
The Boolean output

will be TRUE or FALSE, whichever is set by the user (set by double-clicking on the block).
Operations
The Boolean Block can be declared as a User Defined Variable.
The Boolean Block can also be declared as an Order Buy/Sell Variable, meaning that the value of will alternate depending on the user's selection of the Order Side Variable (see: Flip For Sell Order Functionality for more information).

Example. Right-click on the Boolean Block and select one of the two available variable types: User Defined or Order Buy/Sell

ADL Tip: A User Defined Boolean Block can function effectively as an on/off "switch" to activate and de-activate parts of the user's algorithm.

Double-Click Edit Window
Double-click on the block to bring up an edit window: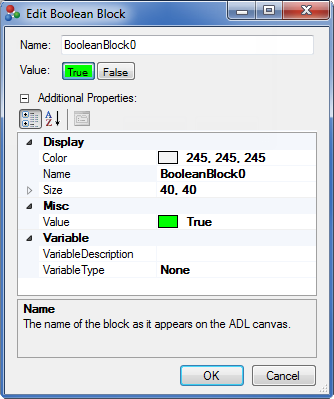 Value: Select value of .