← Back to X_TRADER® Help Library
ADL® Documentation
Stopwatch Block
Operations
When a discrete event message

enters its discrete input port, the Stopwatch Block evaluates its Stop Time formula (depicted in its internal green canvas) to get the stop time in milliseconds. After the specified stop time, the block sends a discrete event message through its output port. The Stopwatch Block must be reset with a new incoming discrete event message to repeat its operation.
The Stopwatch Block allows you to set a custom timer interval instead of a fixed interval of 250 ms, and lets you decide when/how to repeat the timer, which prevents unnecessary timer events.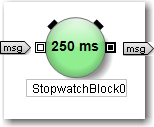 Double-Click Edit Window
Double-click on the block to bring up an edit window: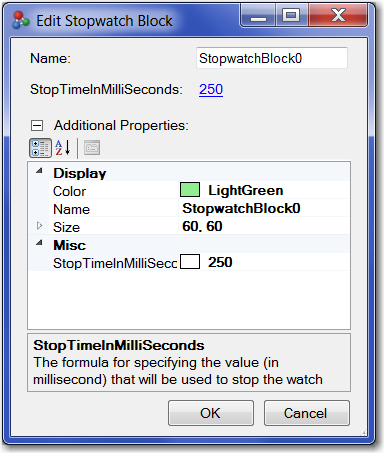 StopTimeInMilliseconds: Opens the formula canvas so you can define a formula for the stop time in milliseconds. This value instructs the Stopwatch Block to send a Discrete Event Message after the specified stop time.