← Back to X_TRADER® Help Library
Autospreader Documentation
The Manager Dialog Box
The Autospreader Manager dialog box is your interface for previously created spreads.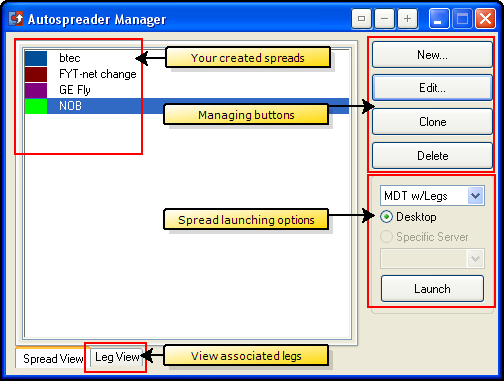 Autospreader Manager Spread View
The

buttons

in this dialog include:
| Button | Description |
| --- | --- |
| New | Opens a new instance of the Autospreader Configuration dialog box, used to create a new spread. |
| Edit | Opens the Autospreader Configuration dialog box, populated with the spread information for the selected spread. |
| Clone | Duplicates the selected spread and adds it to the list. The word 'copy' is added to the end of the spread title. |
| Hedge Manager | Opens the Hedge Manager window, letting you view and make changes to your hedge orders. |
| Delete | Deletes the selected spread from the workspace. |
Your

spread launching options

include:
Option
Description

The drop-down box lets you choose which window to launch the spread into and whether you want to launch the corresponding legs.

You can launch your spread in:

MD Trader
Market Grid
Autotrader

The radio buttons let you choose if you want to launch the spread from your local desktop machine or a specific synthetic server.

Refer to Trading on an Autospreader Strategy Engine for more information on the synthetic server.

Launch

Opens the selected spread with the launching options you specified.

Note: Hold the Shift or Ctrl keys to select multiple spreads.
The

tabs

in this dialog include:
| Tab | Description |
| --- | --- |
| Spread View | Shows standard view of all the spread names. |
| Leg View | Shows view of all associated legs, sorted by spread name. |
Refer to Altering Spreads using the Leg View.