← Back to Trade Talk Blog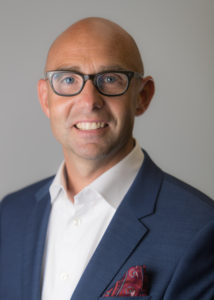 We first met Magnus Haglind when he was living in Chicago and serving as CEO of Nasdaq Futures (NFX), the U.S. energy market launched by Nasdaq in 2015. Nasdaq had announced Trading Technologies' status as a preferred NFX vendor, and our teams were starting to work together to connect traders to the new exchange using our software.
While the collaboration between TT and Nasdaq has deepened, Magnus' role has evolved. A native of Sweden, Magnus recently took a new position that has him overseeing Nasdaq's global commodities business.
We spoke with Magnus as he was preparing to relocate from Chicago back to Stockholm where his position is based. Read on for insight into how he got his start, his view on technology, and what lies ahead for both NFX and Magnus.
How did you start at Nasdaq—and what was the path you took to where you are now?
Magnus: I had the opportunity to start working at Nasdaq in a role working at the intersection between technology and the business, at a time where the market was increasingly becoming electronic, and the regulation of energy markets differed significantly in different regions of the world. My role initially was to lead the establishment of a new exchange and clearing platform for commodity markets, which then led to a job where I became responsible for the delivery and services to all Nasdaq's customers using Nasdaq technology. Commodity and futures markets are in many ways regional or global in nature, so it gave me a lot of exposure and insight into market fundamentals, products and regulation. With that experience in hand it was natural to focus more on Nasdaq's own business development initiatives and then, in particular, on how to respond to new business opportunities following Dodd-Frank and other regulatory changes.
How does your previous technology experience play into your current responsibilities as COO and deputy head of Nasdaq Global Commodities?
Magnus: Technology is the fundamental building block for any exchange these days and it is critical that we deploy and manage our platforms in an efficient way both in regards to costs, but also by providing great service. The costs associated with market access for trading firms have increased massively during the last few years, so it is critical that we as an exchange provide an easy way to access our market through standardized interfaces and APIs which can facilitate quick and efficient access and onboarding.
What was the most challenging part of entering the futures markets?
Magnus: Nasdaq already has a footprint in the futures markets in Europe, but the launch of NFX certainly required that we establish a new U.S.-based market. The key challenge for any new market these days is to secure broad distribution to ensure that customers can access the market in an easy way. So, we have spent a lot of time working on reducing the typical barriers to entry.
One of the most important ways of doing that has been to work closely with independent software vendors (ISVs) to ensure that there are great tools available to access the NFX market. One critical ISV in the futures industry is Trading Technologies (TT), and we have had the pleasure of working closely with the TT team to ensure that TT users can access the NFX market in an easy way. TT has also brought new innovations to the market such as block trade reporting support.
After a very successful inaugural year, what lies ahead for Nasdaq Futures?
Magnus: We will continue to expand our product offering to ensure that we facilitate customers' needs to hedge more complicated products. We will also add more OTC and other exotic products during 2016.
In addition, we are focused on broadening our customer base so that more firms in the industry have the opportunity to trade energy benchmark products at a much lower cost.
You recently moved from Chicago to Stockholm. What will you miss most about Chicago?
Magnus: The beautiful modern architecture and the welcoming midwestern hospitality. And I will not miss the polar vortex in January…