← Back to Trade Talk Blog
At this year's FIA Expo, we made the exciting announcement that we are launching a full service order management system called TT®  OMS. For years now, we have been describing at length how the TT platform has re-imagined and redefined what a professional trading system is capable of. Offering a full-service OMS allows us to deploy our disruptive technology to provide a very compelling alternative to a segment of customers in need of a trustworthy partner who can deliver the level of service for which TT is known.
Delivering mission-critical software on a global scale where availability, data integrity, efficiency and performance have no room for compromise is a daunting task. Our ability to seamlessly integrate ultra-low-latency execution through co-located data centers with access to cloud services for non-latency-sensitive services and data storage gives us a significant edge over competitors' solutions. The TT OMS offering provides a solution that is unique in its ultra-low-friction onboarding as well as its seamless integration with best-in-class execution. What we have proven in the process of migrating our core execution business to TT is that we can deliver a higher quality product at a lower cost to our customers who have traditionally managed large, expensive infrastructures, and we intend to do the same for the OMS space.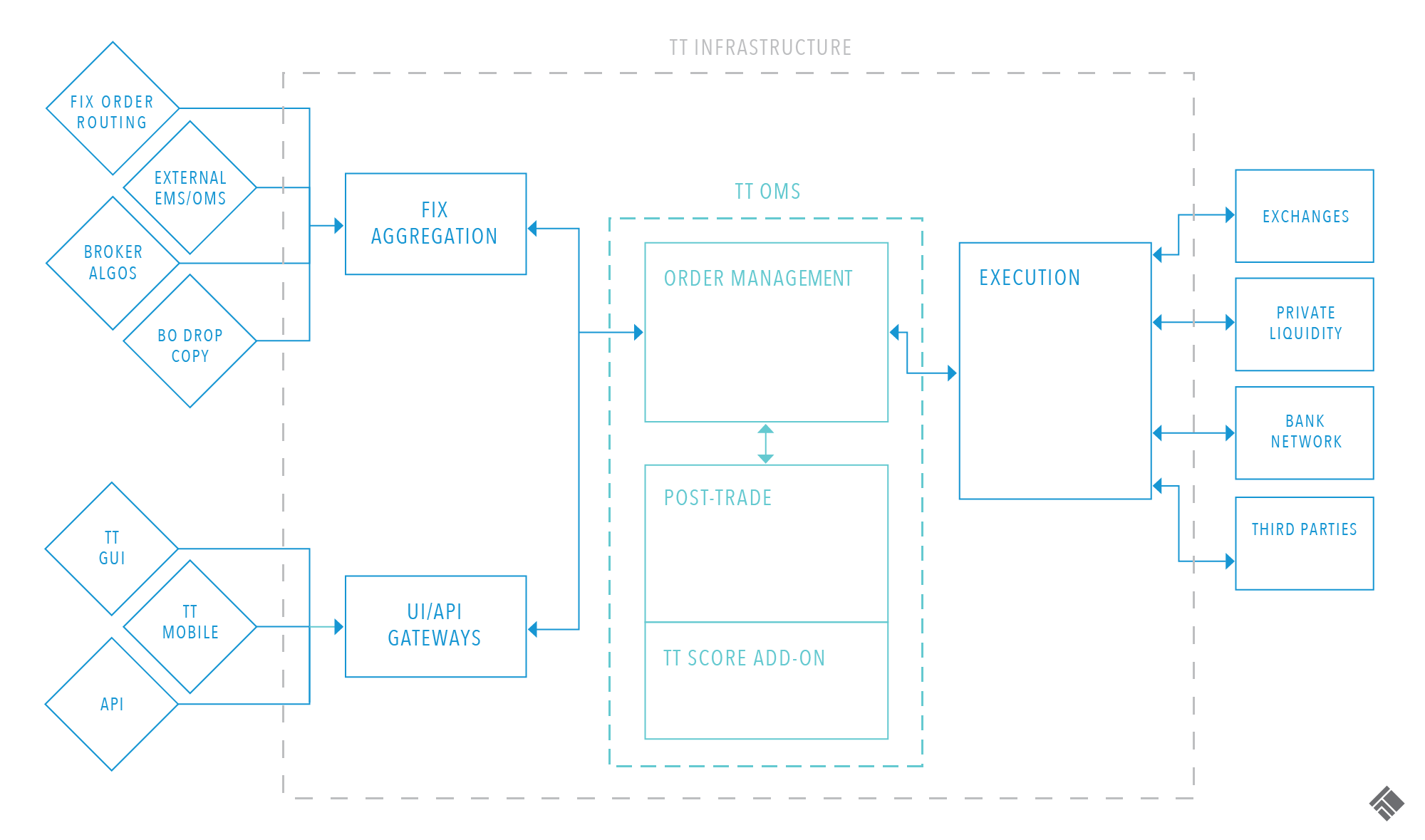 One key difference between the X_TRADER® and TT platforms is the open architecture TT embraces. Central to any OMS offering is accepting order flow from anywhere and passing order flow along to anywhere. TT was built for this type of dynamic order flow. X_TRADER has long offered basic order handling functionality like care (high-touch) order staging and order passing between brokers and desks. TT OMS builds out our order handling features and combines that flow with other features such as reporting tools, alerting, allocations, customized FIX flow to facilitate integrating with other systems, and access to a robust suite of execution algorithm options.
In the coming months, we will be enhancing our care order workflows, which along with order passing and FIX integrations will form the core of TT OMS. Clients who are interested in learning more can start engaging with us to test and discuss what life would be like on TT OMS. We appreciate that making a change to such a mission-critical system does not happen overnight. Now is the right time to start the conversation.