← Back to Trade Talk Blog
As we're about to turn the corner from June into July, I still find myself thinking about last month's trip to Busan, South Korea.

When FIA announced their first conference in Busan in over six years, I jumped at the opportunity to not only attend, but to maximize TT's exposure by sponsoring the event. FIA Forum: Busan 2019 attracted a distinguished lineup of speakers, exhibitors and participants to discuss the Korean markets, as well as global and local issues affecting the derivatives markets.

For TT, this was the ideal opportunity to announce a strategic partnership that I had spent a significant amount of time working on over the past year. At FIA Busan, we officially announced Samsung Futures' agreement to provide connectivity to Korea Exchange (KRX) via the TT® platform.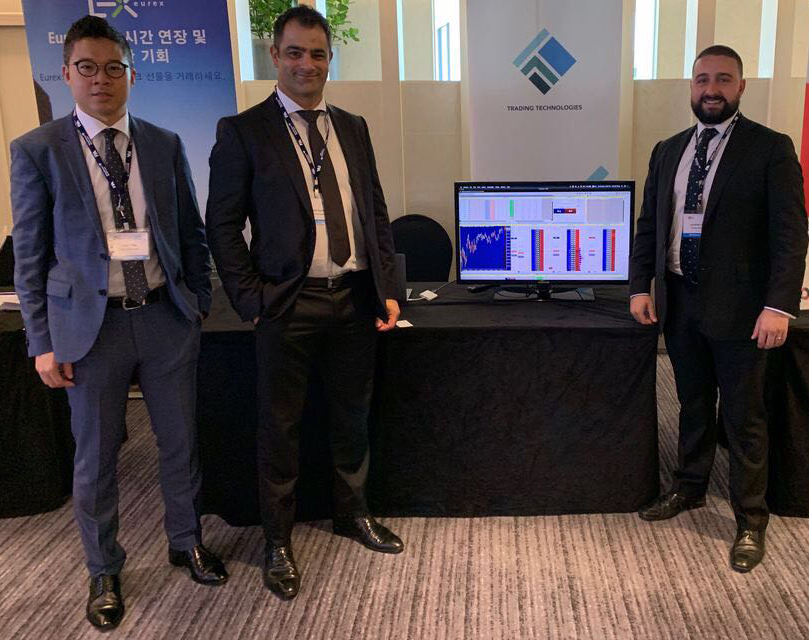 This was a remarkable announcement, as it solidified our first Korean FCM partnership and extended TT's connectivity into Korea for the first time. From a personal standpoint, I was pleased to see our plans for regional expansion come into fruition, and this announcement further fueled my enthusiasm for the KRX derivatives markets and the newly available access on the TT platform.

We weren't the only ones talking about KRX at FIA Busan. At the event, I attended various panels, spoke with new contacts and met with long-time customers, which allowed me to gather a wide-range of insight about the Korean derivatives market. Below are my takeaways:

Globalization of the Korean derivatives market is—and will continue to be—a controversial topic.
Over two sessions, panelists discussed the major impact that regulatory, political and global markets are having on the Korean exchange-traded derivatives industry, and Korea's growing reputation as an international hub for derivatives markets. Both topics are interlinked, and unsurprisingly, both drew strong opinions from both panelists and attendees.
KRX's derivatives market is both mature and progressive.
Like most derivatives exchanges globally, KRX's strength comes from its core products, most notable the KOSPI 200. KRX is constantly challenged to grow and diversify its core products, while creating new and innovative products to achieve greater global reach and fight off ever-growing competition from international exchanges and alternative asset classes.
KRX is in prime position to reclaim its position as one of the top five global exchanges.
In 2018, KRX was the number-one single stock futures market in the world and the ninth most-traded derivatives exchange in the world, with average daily trading volumes of 5,773,037. At the conference, it was suggested that if regulations around market connectivity and clearing practice were aligned with the global marketplace, KRX would become a top-five global exchange—a position it held 10+ years ago.
Two weeks after FIA Busan, the Financial Services Commission (FSC), Korea's market regulator, pledged to boost derivatives trading by relaxing select regulations governing futures and options investments within the next year. This pledge will stimulate the capital markets by removing regulations, improving the trading system and introducing new derivatives products. Combined with KRX's initiative to attract more market participation, the exchange is primed to reclaim its position as the leading global derivatives exchange, giving derivatives market participants globally something to look forward to.

Earlier this month, I traveled to London to attend FIA's IDX conference, which is the largest gathering of derivatives professionals in Europe. Although many miles away from my side of the world, I spent much of my time in London talking with clients regarding their interest in KRX, China and other Asia/Pac markets.

Many of these conversations were driven by the news we released as the conference began about another APAC initiative: our push into mainland China via a partnership with Hong Kong's CN First International Futures. Through this agreement, our clients outside of China will be able to access and trade the major Chinese derivatives markets—specifically the Shanghai International Energy Exchange (INE), Dalian Commodity Exchange (DCE) and Zhengzhou Commodities Exchange (ZCE)—through the TT platform.

Now I'm back in Sydney, and we're busy fielding client inquiries for connectivity to KRX, China and more. We're also gearing up to open a new data center in Bangkok that will provide our clients with access to the Thailand Futures Exchange (TFEX) and serve as a gateway for traders in and near Thailand to access the global derivatives markets through the TT platform. Look for more on this in coming weeks.