← Back to Trade Talk Blog
The Commodity Futures Trading Commission (CFTC) brought a record 26 cases related to manipulative conduct and spoofing in the fiscal year ended September 30, 2018. Several of those civil cases were also accompanied by criminal charges filed by the Justice Department.
In order to avoid large regulatory fines and costly legal fees, it is now more important than ever that individual traders have access to trade surveillance software that can alert them if their trading activity is forming patterns that are at risk of drawing increased regulatory attention. Recognizing this need, Trading Technologies now offers the TT Score trade surveillance solution to individual traders as a fully integrated component of the TT platform.
While the addition of TT Score to the TT product suite is still relatively recent, it has already gained attention and garnered awards. For example, in the latter half of 2018, TT Score was honored at both the FOW and Global Investor Asia Capital Markets Awards and the FOW International Awards.
As noted by Luke Jeffs, managing editor, Global Investor Group, "TT Score secured the Best New Product: Market Surveillance award to reflect the smart work done by Trading Technologies integrating and re-launching the Neurensic surveillance product in less than a year, after TT acquired the firm in October 2017. The adoption of Neurensic's market-leading artificial intelligence technology made TT Score the stand-out new surveillance platform in 2018."
TT Score provides users with an easy-to-understand "risk score" for all of their trading activity on a scale from 0 to 100. A score of 100 indicates a very high degree of similarity to activity that has drawn regulatory attention in the past, while a score of 0 indicates a very low degree of similarity. In this manner, TT Score provides specific guidance to users as to which activity has the highest probability of drawing regulatory attention, and therefore is the most important for immediate review.
TT Score also facilitates the analysis of post-processed trade data via state-of-the-art visualizations like the Market Ladder Replay. This research tool provides users with a frame-by-frame replay of the trading activity overlaid with Level 2 market data on a ladder-style interface. The ladder is 10 ticks deep and displays all market data, including the orders for each relevant participant in the order book. Users can stop, start and rewind the playback of the activity within a given cluster in order to gain a precise understanding of the sequence of events that occurred in the order book and how the trader's orders impacted the market.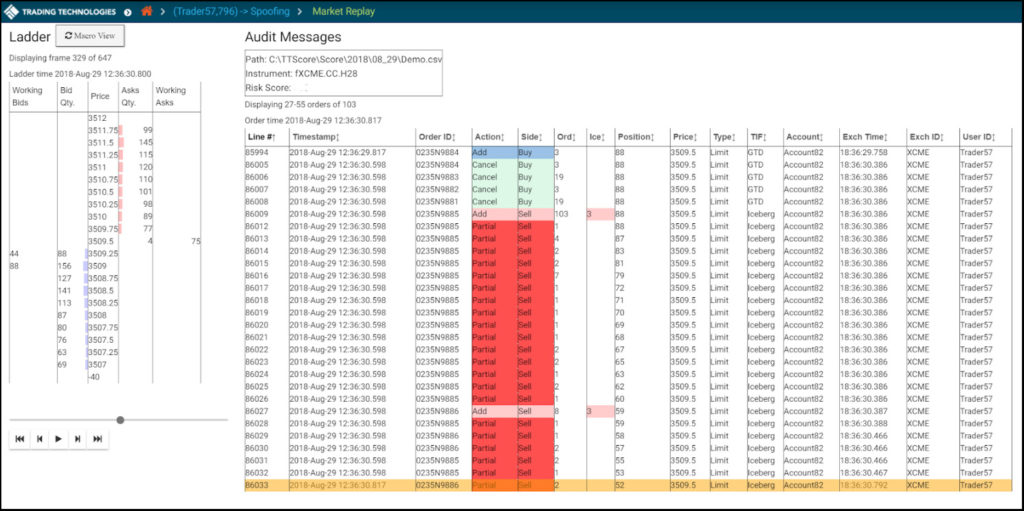 Beginning February 1, TT Score will be available to individual traders who use the TT platform for $250 per month. For that price, traders not only get access to their risk scores and tools like Market Ladder Replay, they also benefit from the "forever" order audit trail, which stores all of a trader's order audit trail data in perpetuity in the TT platform, where it is accessible via TT Score to respond to regulatory inquiries.
But don't take our word for it. See for yourself. Contact your local TT representative and learn how to access TT Score today. We're confident you'll quickly see that TT Score stands above all other trade surveillance and compliance solutions when it comes to helping you identify risk and stay out of the regulators' crosshairs.
If you're already using the TT platform, you can start using TT Score by contacting your TT administrator. Just request that they activate TT Score by checking the "TT Score User" checkbox in the Setup console.

If you're using TT but you aren't a managed user, you can activate it yourself by logging in and clicking on "Score" in the TT title bar; no setup is required.
Watch our Introduction to TT Score video to get started. Additional information is available in the TT Help Library.