← Back to Trade Talk Blog
The Chicago summer is in the back nine, but golf season is still in full swing. After all the strokes were tallied at the Trading Technologies golf outing at Chicago's own Ridgemoor Country Club, I had the privilege of sitting down over a pint at the 19th hole with industry veteran Carl Gilmore, co-head of futures for Wedbush Futures.
We had a lot to discuss as the futures division of Wedbush is not quite a year old and recently made the new TT trading platform available to their clients. And while we debated the likes of Rory McIlroy or Jordan Spieth and forecasted the future of Tiger, we also talked a little business and exchanged perspectives on the markets.
I summarized our conversation for this blog post. It's a great opportunity for Trade Talk readers to learn a bit more about Wedbush Futures, garner insights about the current low interest rate environment and understand why Wedbush chose to be an early adopter of our new platform.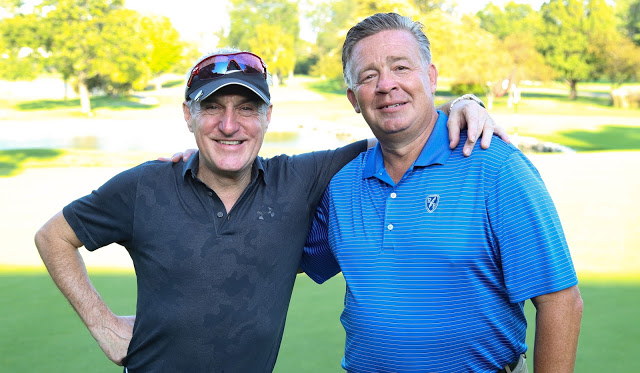 TT's Robbie McDonnell (L) with Wedbush's Carl Gilmore (R) at the recent Trading Technologies golf outing.
Robbie: Carl, help Trade Talk readers understand more about Wedbush Futures. As Wedbush is a new entrant in the futures industry, perhaps you can share some corporate history.Carl: Wedbush Securities is privately held, and we're celebrating our 60th year of serving clients. We've earned a great reputation in investment and financial advisory services, and with the track record of strong client service and stock research, our leadership decided it was a good time to expand into the futures industry. It's important for us to continuously build on our offerings, and our latest move allows us to be a cross-asset-class brokerage. But being a multi-asset-class clearing and execution provider isn't enough. We need to couple that capability with the world-class service for which Wedbush is known.
Robbie: With the low interest rate environment and the consolidation trend among FCMs, what types of opportunities do you and the Wedbush Futures team anticipate delivering to your clients?
Carl: The team at Wedbush is delighted to see managed futures continuing to grow in popularity. Joining the FCM world has allowed us to manage complexities for clients, provide access to the markets and give clients the opportunity to achieve exposure to the futures markets. We strongly believe every large portfolio holder should consider a managed futures component.
Robbie: Do you have a perspective on interest rates rising and will that help volumes in the futures markets?
Carl: I think that overall, a rising interest rate environment is good for volume, particularly in futures. Further, it is a sign that our economy is on strong footing and we've recovered from the credit crisis. Futures markets provide economic value by facilitating the transfer of risk. This function is very important in a rising interest rate environment.
Robbie: Our readers already know that your clients have started trading on the new TT platform, but is there anything else exciting going on at Wedbush Futures?
Carl: That's a good question, Robbie. 2015 has been a great year for our business. We actually are expanding into London as we make our way into Europe, and we're about to announce our new hire for Wedbush Futures Europe. We're also pushing hard to have cash Treasury capabilities in Q4. Stay tuned.
Robbie: You're one of the first FCMs to make the new TT platform available to clients. Have you gotten any initial reaction? Also, I'm sure Trade Talk readers will be interested to hear why you decided to offer the new platform to your client base.
Carl: So far, so good. Our clients are really excited about the flexibility provided by the new TT platform. It's especially helpful that they can quickly access TT on the go while using their preferred device. We take tremendous pride in partnering with tech leaders.
Robbie: Now that all of this year's majors on the PGA Tour are in the books, what's your take on the 2015 season? What role do you see data and analytics playing in the future of golf?
Carl: I love watching Jordan Spieth and his detail-oriented approach to the game, but I also really appreciate the greatness and creativity of Rory McIlroy and how Jason Day was able to overcome adverse situations this year. It's really interesting to see the growth of wearable technology on the Tour and how players are using that information to alter their swing, switch up practice habits or even change their strategy virtually in real time. Data and analytics have definitely made golf more competitive than it's been in a long time.
Robbie: Carl, you mentioned you were recently in Asia. Our readers would love to hear a few highlights from your travels.
Carl: Notwithstanding some of the recent news from China, Asian markets remain vibrant and an integral part of the world economy. There are some interesting things going on in Asia, and I expect that Asian participation in financial markets throughout the world will continue to rise over the next five years. Also, everyone wanted to know who I thought would be the next U.S. president! Stay tuned for that as well!