← Back to Trade Talk Blog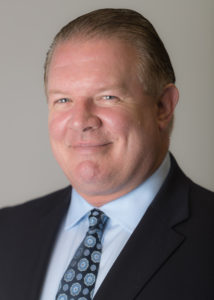 Rick Beaman is Vice President and Head of the Nasdaq Futures Exchange (NFX). Based in Houston, TX, Rick oversees client and Broker relations for U.S. Commodities and all business activities for NFX. Mr. Beaman joined Nasdaq in May 2010 and has been involved in energy market exchanges, clearing, product development and brokering for more than 20 years. Rick is also a veteran of the U.S. Navy. In this post, Rick explains how the Navy shaped his career in the energy market and predicts the next big thing in commodity futures.
How did you get involved in energy trading, and what path took you to where you are now?
Rick: Soon after leaving the Navy in 1996 I began working at Cantor Fitzgerald as an Energy Broker, and then ultimately became General Manager of its energy brokerage business (power, natural gas, emissions and coal) in a venture called TradeSpark.  I stayed there until 2004 when I moved to the energy clearinghouse Vmac, before coming to Nasdaq in 2010.  I oversaw the successful launch of NFX in July 2015.
What is the scope of your responsibilities as Vice President of Nasdaq and Head of NFX?
Rick: Currently, I oversee all client and broker relations for NFX including all business activities. My day to day involves business operations including sales and client relations, business management, product development, exchange operations, project office and business strategy.
Who is your greatest influence within the commodities industry, and what did they teach you?
Rick: As you know, I am a veteran of the U.S. Navy, and during my active time there I had the opportunity and privilege to work on the personal staff of William J. Flanagan, Jr. – a U.S. Navy four star Admiral who served as Commander in Chief of the U.S. Atlantic Fleet from 1994 to 1996.  Mr. Flanagan has had one of the greatest influences on both my personal life and my career and gave me my first opportunity in the energy community by bringing me in to work with him at Cantor.  He was able to help me leverage the experiences and lessons I learned during my time in the Navy and apply them to my approach in the energy space, and most recently to my management of NFX.
What do you think will be the next big thing in commodity futures?
Rick: Nasdaq is at the forefront of developments in fintech and technical innovation.  We always like to be part of the conversation, whether it's machine intelligence, blockchain or other technological developments in the financial services industry. Additionally, we continue to work closely with the independent software vendors (ISVs) that power the tools our customers rely on to access the NFX market. Partnering with Trading Technologies (TT) and their latest innovations, such as TT Desktop, has ensured TT users can access the NFX market in an easy way. I expect that as market technologies continue to innovate, we will definitely see this impacting the commodity futures markets in a positive way.
What can we expect from Nasdaq Futures in the second half of 2017? 
Rick: Continued growth in volumes and open interest, and expansion of our product set, especially in energy. We have a number of energy product launches planned this year and will look to expand into new commodity and financial asset classes in the second half of this year. We will provide further details about these products in the coming months. I strongly believe that this will create more synergies for trading and will showcase the evolution and diversification of our platform.