← Back to Trade Talk Blog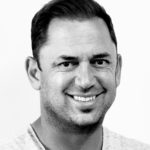 Our first guest in our crypto interview series is a traditional trader, turned crypto trader, turned crypto entrepreneur. Like many in crypto, Dan Gunsberg is an interesting guy with an interesting background; and because of this, we conducted this interview over breakfast at an interesting place, Soho House in Chicago. It's not the typical place for a business meeting, but rather more of a hipster joint where business guys aren't welcome—but crypto guys fit right in.
Dan is the co-founder of Gordian Block Capital, LLC, a cryptocurrency and digital assets investment and trading firm. Dan has over 20 years experience in financial markets, trading and technology. Dan has been active in crypto markets since 2015. He left traditional markets in October 2017 to pursue full-time cryptocurrency trading.  
Dan holds a BFA in Political Science from The Ohio State University. He currently resides in Highland Park, Illinois.
You had a long, distinguished career as a futures trader. What drew you away from traditional trading and into the crypto space?
Dan: I first got involved in the crypto space in late 2015. Crypto had gone through the Mt. Gox crisis 15 months prior and was beginning to emerge from the resulting bear market. While I strongly believed in the ideology behind bitcoin and its use case, I had questioned if the market was going to survive. Price was still off more than 80% from its previous high but was starting to show signs of a bottom. The market resiliency to a catastrophic event such as the Mt. Gox hack convinced me that it could have legs. I felt the price of bitcoin at that time gave me a really nice asymmetric opportunity to enter the market.
When I made the move to pursue crypto full-time in October 2017, legacy markets had become extremely efficient. This was in large contrast to the asymmetries that existed across the global crypto opportunity set. The timing was right to make a move.
What are you doing, both in your trading and your business, that is new in the crypto space?  
Dan: While I don't want to get into the details of our trading strategies, I can tell you that relative to legacy markets, this still a very young and illiquid space. Asymmetries exist along multiple dimensions in crypto. We are talking about a fragmented market where annualized volatility has ranged from 40% to 150%! Having ways to capture these asymmetries and combining that with elements that are consistent to trading, regardless of strategy or market (i.e., money and risk management rules), will go a long way.
We have also founded a very exciting project called Hxro (pronounced "hero"). Hxro is a crypto gaming platform that merges digital currency trading with daily fantasy-style gaming. We want to turn every gamer worldwide into a trader. The merging of these two fanatical market segments gives experienced crypto traders a new way to compete and newcomers a way to on-ramp in a fun and engaging way. The platform will be launching later this year.
What has been the greatest challenge in transitioning over to crypto from futures?  
Dan: Finding time to it turn off. In futures, you usually have the weekend to decompress and recharge. Crypto markets never close. You have to be willing to commit to it 24/7/365 to do it well. It's definitely not for everyone.    
Also, in futures, you generally have some way of formulating fundamental fair value for a derivative. There is currently no way of saying, "the price of bitcoin should be x." Therefore the market has no theoretical floor or ceiling. This is difficult for many people to get their heads around. The market itself is a little less than 10 years old. You have to rely on datasets which at longer time intervals are very limited. I like to refer to it as "Crypto Pangea."
What advice would you give to someone thinking about pursuing a career in crypto trading?  
Dan: For a trader who has had some level of success in traditional markets, I think the J curve could be relatively quick. This is very much a trader's market. As the financialization of crypto becomes more prevalent, this will only continue.
It is extremely important to learn the basic operational life cycle of transacting on various exchanges. Wallet security and management, transfers, exchange margining (where available) and liquidation mechanics can all play into the optimal protection of your capital. Last, live by the phrase "don't trust, verify."
What role can TT play to help your grow your business at Gordian Block?
Dan: Bringing the same TT offering that exists in futures to the global crypto opportunity set will be incredible as you add more exchanges. TT's feature sets do not yet exist on exchanges or with other third-party crypto platforms. I think you're off to a great start by integrating the Coinbase Pro spot market. I look forward to seeing the addition of liquid alt exchanges as well.