← Back to Trade Talk Blog
As the summer of 2019 quickly fades away, I'm reflecting with my fellow interns on our time at Trading Technologies. The past couple of months flew by, and although we started as strangers, we're ending as teammates with shared experiences working at the Chicago headquarters of this global trading software company.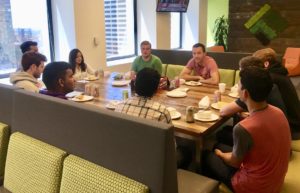 At the beginning of the internship, our full-time colleagues led meetings to provide us with background on the fintech and trading industries. By introducing the TT platform, they educated us on trading futures, options, cryptocurrencies and more. Frequent lunch-and-learns and coffee chats with members of the C-suite gave us invaluable opportunities to have open conversations with and gain insights from our leadership team.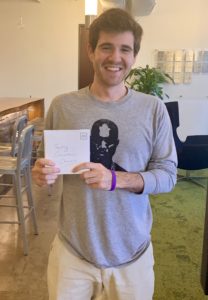 We got hands-on experience in different capacities, like writing code, building algos, designing programs, developing software, planning events, implementing marketing strategies and more. Putting our skills and industry knowledge to the test, we vied for first place in the annual Intern Trading Competition. Similar to the TT CampusConnect ® program, we got the chance to trade futures and options in real-time simulation. Our Support Department intern Graham won an Amazon gift card for making a net profit of more than $160,000.

To commemorate the ending of our paid summer internship, we headed over to The Escape Game and worked together to search for clues and solve entertaining puzzles. Following our timely escapes, we enjoyed a delicious lunch at Pizzeria Due. The past ten weeks have allowed us to grow significantly, both individually and as a group that contributed to the company.

Here are some takeaways and words of advice that we offer future Trading Technologies interns:

Reflecting on the biggest projects that we worked on this summer:

Mark Auger, Engineering:
"I have had many projects this summer, but the largest one, which I am currently still working on, is building a debugger widget."

Graham Bonebrake, Support:
"The most consistent project I took up was making Jira dashboards for anybody and everybody that asked. These made others' jobs a lot easier, so it was satisfying and rewarding to help my colleagues."

Arnold Boros, Human Resources:
"A big project that I finished was organizing employee files and making sure that we comply with federal and state regulations. It was somewhat challenging considering we have employees from several continents."

Nathan Breisch, Information Technology:
"The biggest project I had was helping the team run a Sophos audit. It's very time-consuming, and while I'm unable to be here for the completion of the project, I am glad I was at least able to help the team get the ball rolling."

Jack Delaney, Engineering:
"My biggest project was an automated testing script with conditional overrides based on how we (TT) handle and bounce trade orders. Sure, it was challenging to dig deep into the underlying code, but I ended up becoming more confident tweaking it for what I wanted."

Marc Harvey, Engineering:
"I worked on the triage integration for Algoserver. It was very rewarding in that I feel like a more self-reliant and overall better developer than when I started."

Rahul Jain, Engineering:
"The first project was building a test automation package that would allow the results of unit tests to be shown and stored in an easy-to-interpret format. It was definitely rewarding because I got to see how much cooperation you need to get great results."

Ishaan Mathur, Engineering:
"Throughout the summer, I've mainly worked on the Captain framework, specifically, restructuring the tests to make them better organized. Finishing these tasks was rewarding because I was able to improve the Captain system and make it more useful to the other teams in their automation testing."

Ian Mindich, Engineering Department:
"The main project that I worked on was extending the SDK automation testing framework and tests. This involved understanding how the API works at a high level and using it to ensure proper behavior of existing TT software."

And me, Alexandra Garza, Marketing:
One of the bigger projects that I worked on was planning the 2019 John Lothian News MarketsWiki Education World of Opportunity. It was challenging, as I've never before planned an event with so many moving pieces, but it was very rewarding to see it go smoothly.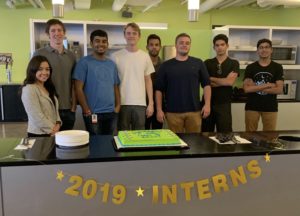 On our development as young professionals and the skills gained during our time at TT:

Looking back at our work experiences from this summer, it's easy to see how far we've come. Jack offered, "I'm lucky to say, I got more out of this than just the work I was hired to do. Specifically, I improved my Python scripting abilities, became familiarized with the modern process to structure successful software and learned more about the trading world." On the skills he gained, Graham said, "I understood how to work programs like Jira and Splunk and also learned the entire forefront of the TT software." Mark reflected on the internship and added, "My time here helped me significantly progress as a developer and taught me how to collaborate on a team really well."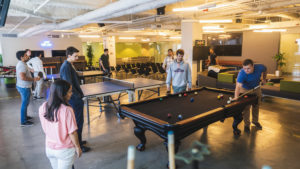 Regarding our favorite aspects about interning at TT:

Trading Technologies offers so many unique work perks. Arnold noted, "Being able to chat with C-suite executives was an excellent opportunity to get a sense of their everyday work and career trajectory." Marc stated that he "…really liked the company as a whole. It's very relaxed, but also very energized at the same time. I also really appreciate how helpful everyone has been." Nate described his favorite aspect as, "…the company atmosphere. Having a workplace that you looked forward to being at every morning is not common, but that was the case for me at TT. I also think that having a good group of interns is key to having a fun and successful summer."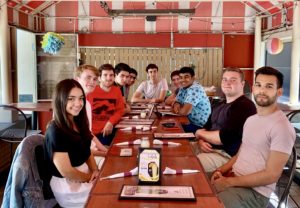 Offering advice to next summer's TT interns:

The ten of us had a great time balancing work and catching up over lunches in the Tech Tap. We know that next summer's group will also have a memorable time at TT, and we wish them the best while offering some advice. Rahul said, "I would encourage you to try something different while you are at this internship; to expose yourself to as much new information as possible." Ian added, "Take advantage of the opportunity to learn extensively about futures trading, software and the intersection of the two." Ishaan advised, "…to not take this internship for granted. It's a wonderful opportunity with a lot of amazing experiences, a friendly company culture and great food." As for me, I recommend to appreciate this experience; Trading Technologies is an incredible company to work for! Show initiative and get involved with internal groups; there are always new and exciting things happening at TT.

Though our #TTinterns are returning to their respective universities, there is nonstop development here at Trading Technologies. To stay updated, follow us on Instagram at @trading_tech. You can also follow us on Twitter at @Trading_Tech and @TTCareers, like us on Facebook, follow us on LinkedIn and subscribe to our YouTube channel, TradingTechTV.

If you are a student interested in the summer 2020 Trading Technologies internship program, please send your resume to careers@tradingtechnologies.com. Our HR team will begin considering resumes and applications in September.